2016-02-18 Homebound
SPOT track of our last days in Vietnam, in Malaysia, and home to Colorado.
Tried to get a hit at our layover in Narita but had spent too much time taking pictures around Tokyo airport and didn't leave enough time for SPOT to sync there. Ah well.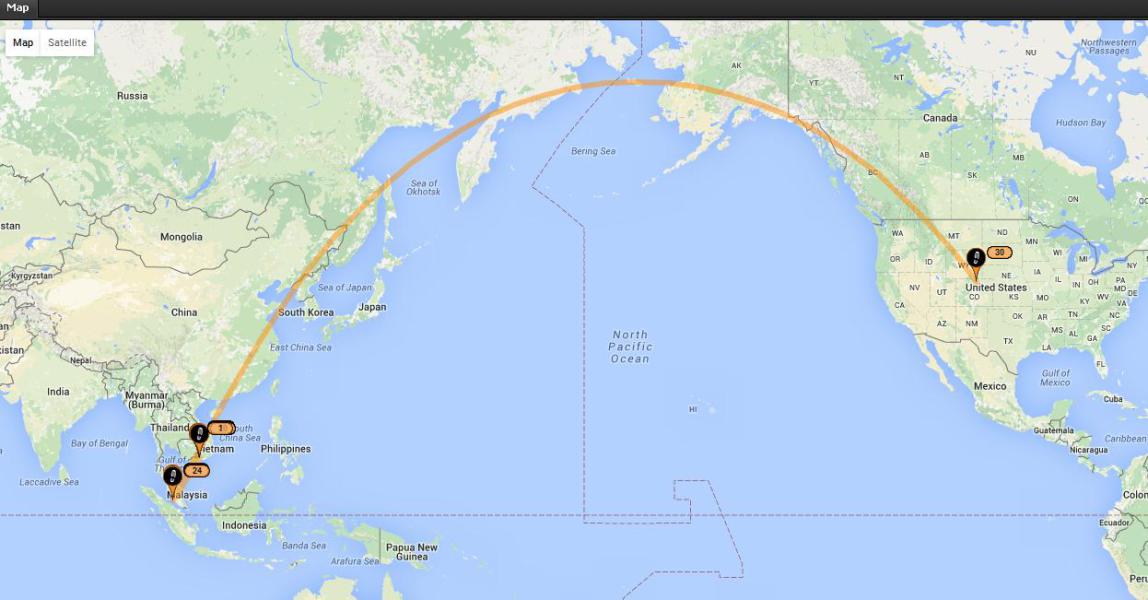 A few pictures of vending machines in Narita airport (Tokyo) with ice cream and desserts, and another sunset photo...
2016-02-15
Taxi ride to the Saigon Airport and at the airport. Many cool road signs that use obviously-understandable pictures, so that no words or translation is needed. No need for "right turn only" words that take longer for drivers to read and hinder tourists who aren't fluent in the local language. Wish the US would be more internationally-friendly!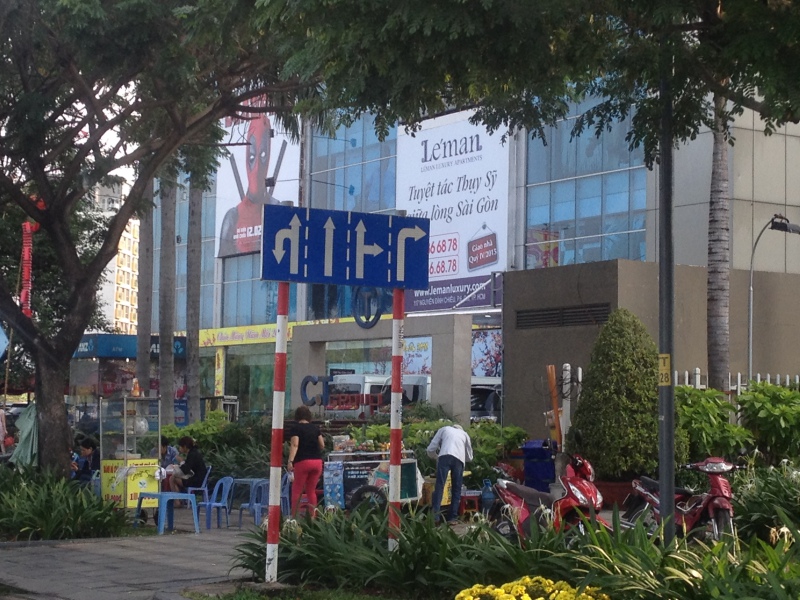 A cute way to carry your kid on your rollable suitcase: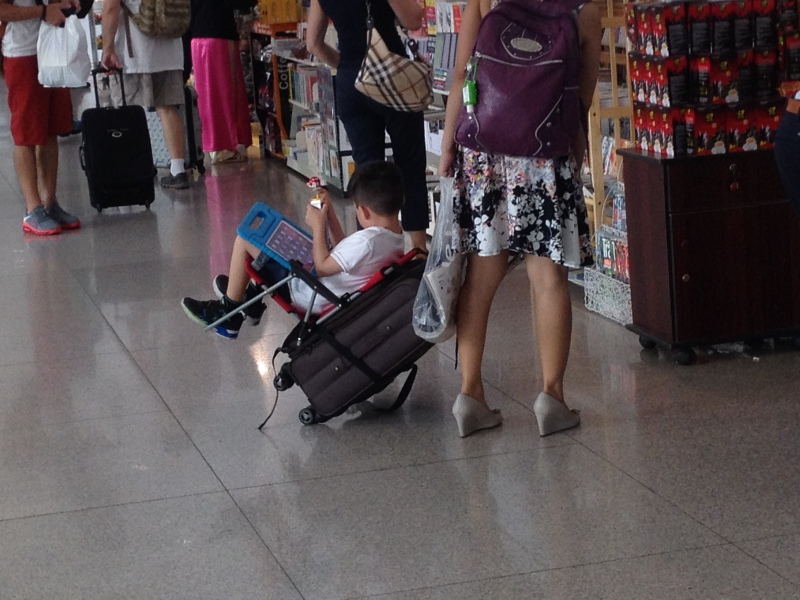 And for airport and airplane buffs, a lot of interesting aircraft and airlines that I'd never seen before, from "Eva Air" to "Vet Jet", "Nok Air", "Air Asia", "Aeroflot", "Tiger Air", and many more, with cool paint jobs.
All pictures going to and at the airport
2016-02-14
Dinner Saturday from the same street vendor of Pho. Views from the hotel roof over breakfast, lunch from a different Pho restaurant: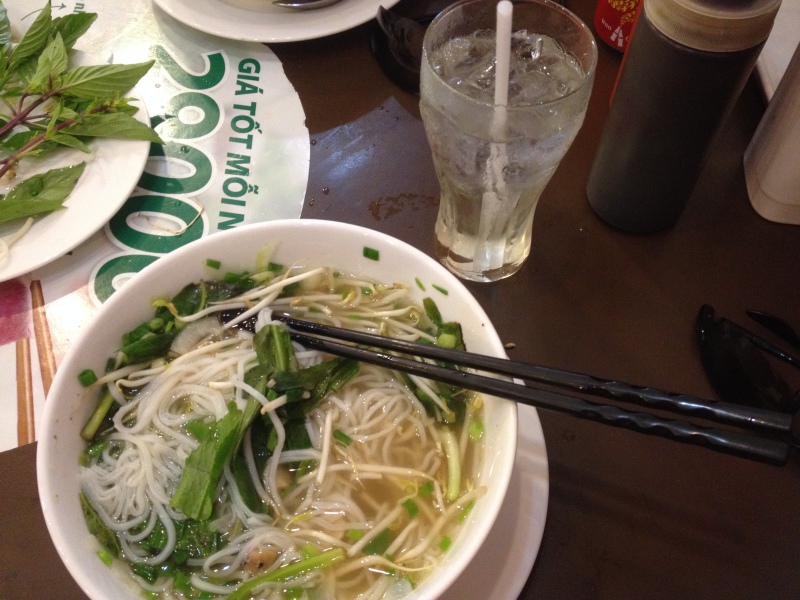 We then wandered the touristy Ben Thnah Market and had to get t-shirts for a whole $2-$4 each. We then made the mistake of wandering the wet market and realized the rats here are pretty huge. We then sat on a street corner and watched traffic and people go by for a bit.. until a rat came out of a street sewer a foot away from Sue and she said "ok time to go now".
In the evening we went back out for dinner, selfie of us with traffic: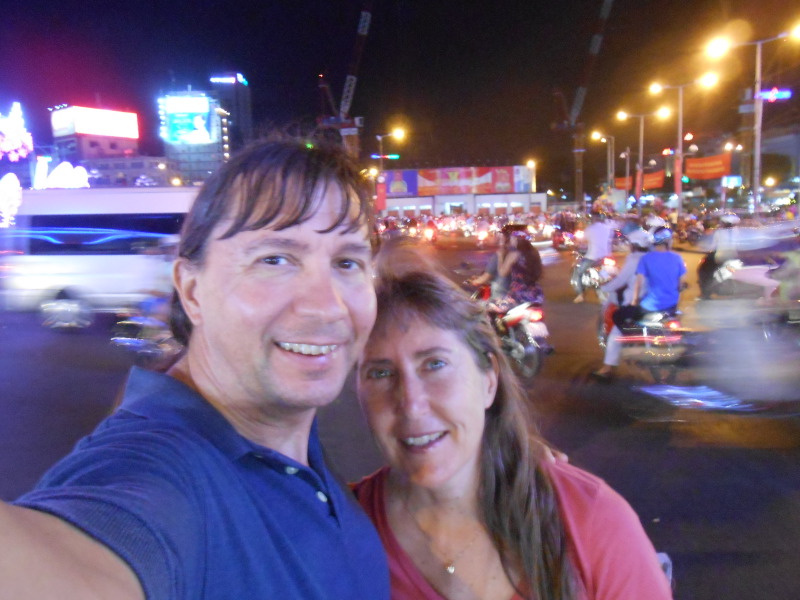 and tried the local sweet rice dessert, discovered the cool traffic lights with countdown timers also have way cool signals like scooters can turn right on red but cars can't...
2016-02-13
Our first full day in Saigon, we take a bicycle tour out to the Cu Cri Tunnels. These are the Viet Cong tunnels, literally hundreds of miles of tunnels. Today we use a different tour company though, Vietnam Bike Tours (instead of Grasshopper Tours). We are joined by our guide Shang and a very nice lady from New York, Stephanie.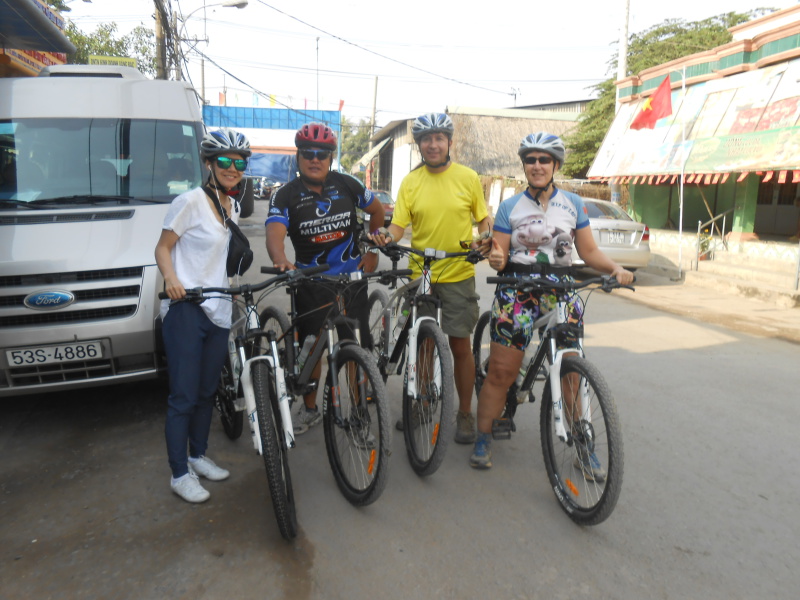 Along the bike trip to the tunnels we learn more about rice fields, rubber tree plantations, hanging out hammocks, and get to taste sugar cane juice. At the Tunnels Bob hops down into a hidden tunnel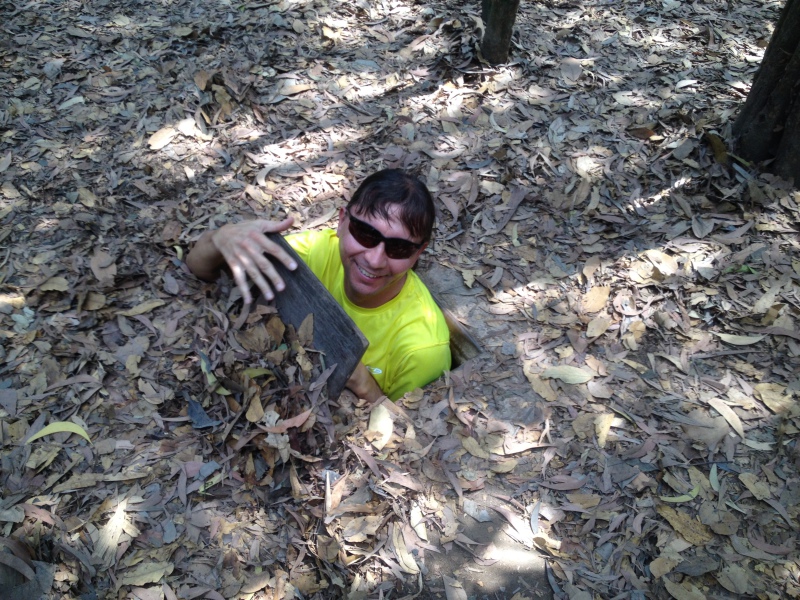 We see some really creative and scary booby traps, bats in one of the tunnels, shooting range where you can shoot live ammo from an M16, M30, M60, AK47... for just a dollar or two a bullet. We get to crawl through the tunnels in the heat and 100% humidity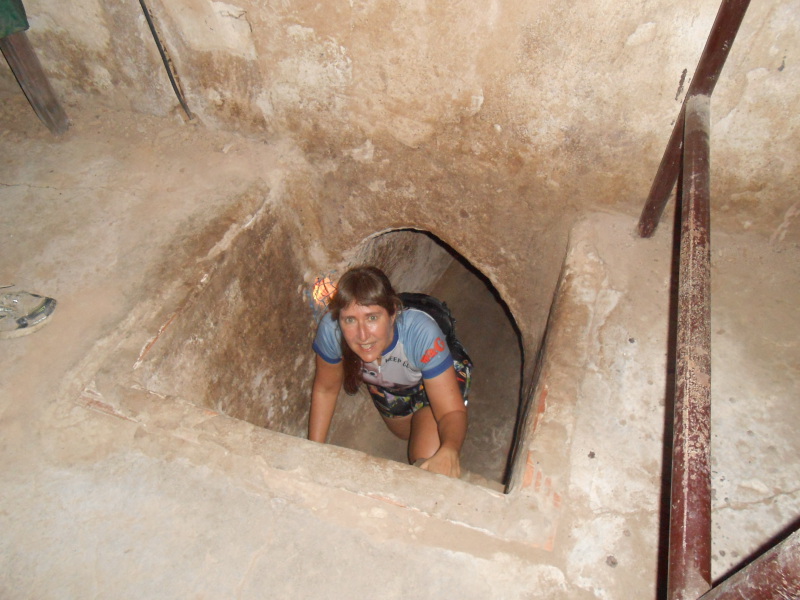 and get a glimpse of what it was like to live down in those tunnels day in and day out. Wow.
Then we cycle to lunch, more great Pho. About 26km on the bike today. Vietnam Bike Tours is quite similar in quality to Grasshopper Tours, but VBT picked us up at our hotel. We didn't want to deal with navigating through town to get to the Grasshopper meetup location at 7am so we chose Vietnam Bike Tours instead. Great guide Shang, no issues, 5 stars for Vietnam Bike Tours.
All pictures of bicycling out to the Tunnels and of the Tunnel tour.
2016-02-12
Day 7 of the bicycle tour with Grasshopper Adventures. Today an early morning (before breakfast) visit to the Floating Market - boats on the river buying and selling all sorts of produce.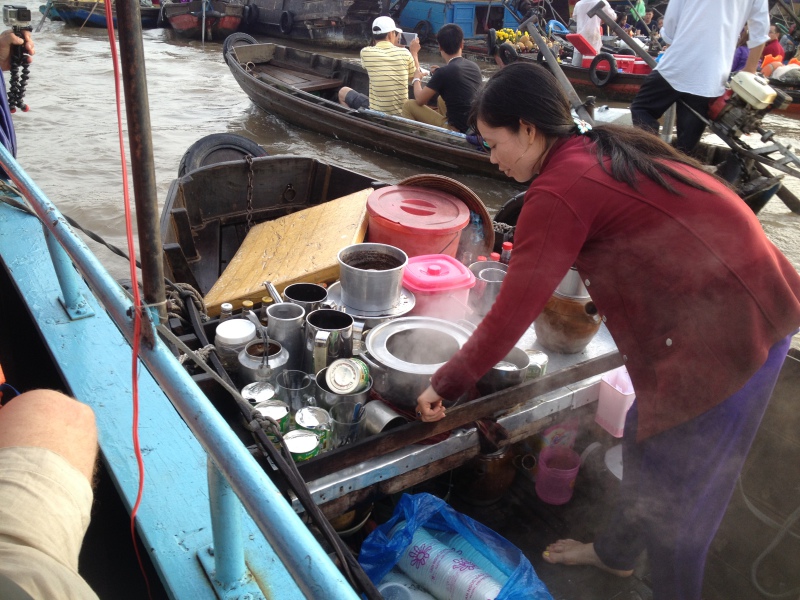 Then after breakfast, we van to Saigon and after lunch get a walking tour of the city. We see the Independence palace, Notre Dame Cathedral, interesting architecture of the post office, and dinner of authentic Vietnamese Pho from a street vendor.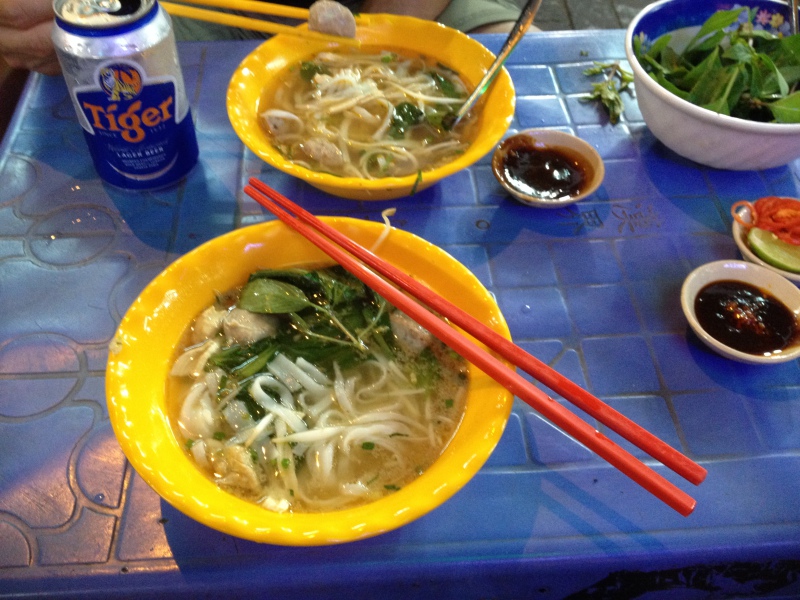 All pictures of the Floating Market, van to Saigon, and around Saigon
2016-02-11
Last dinner with the bicycle group - and at a truly excellent restaurant. Some dishes we'd not seen before like stuffed Pumpkin Flowers. And afterwards some gorgeous decorations in the city:
All pictures from dinner in CanTho
2016-02-11
Day 6 of the Grasshopper Tour, our second and last day of bicycling in Vietnam. Today we saw many local activities, from making reed hats to making rice paper, to making floor mats.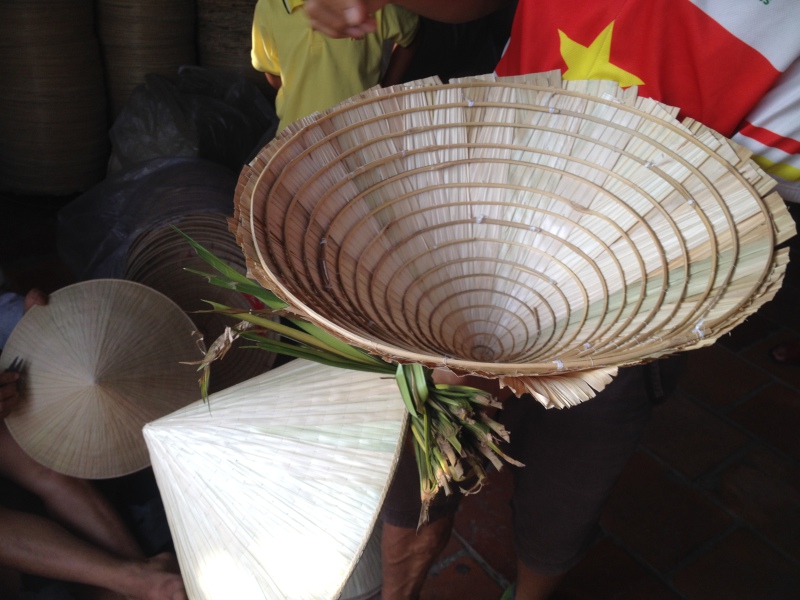 In a market, a fishmonger hammed it up for the camera: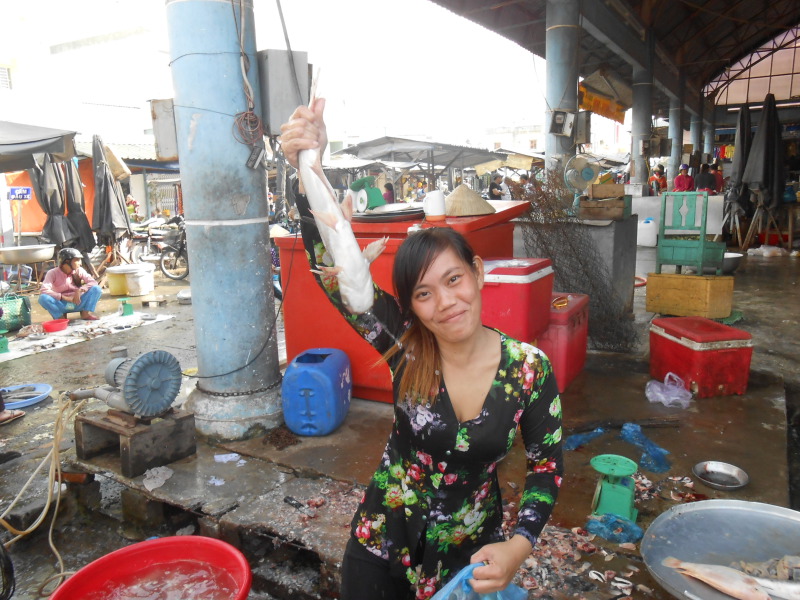 And a flock of ducks: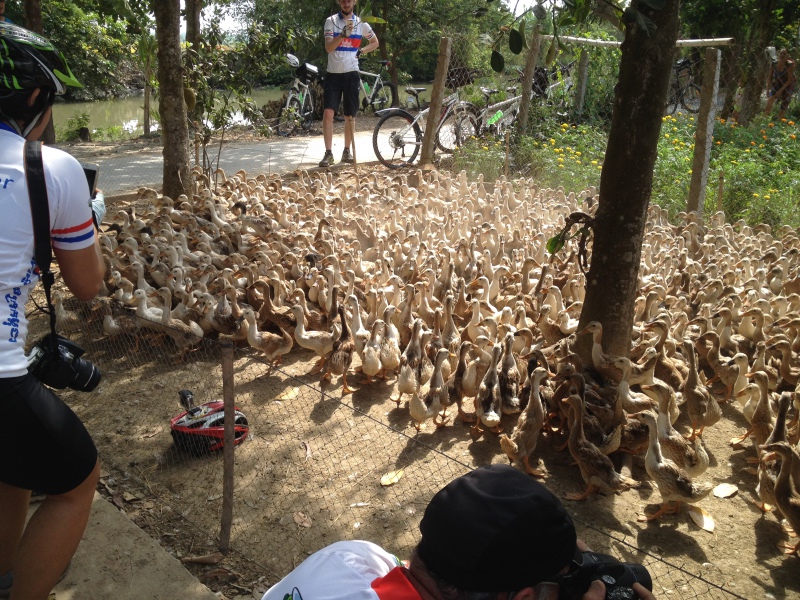 All the great pictures from bicycling today
2016-02-10
Day 5 of the bicycle tour, first day bicycling in VIetnam with Grasshopper Adventures. Lots of short ferry rides and tons of little bridges to cross:
Vietnam is very irrigated compared to Cambodia so rice fields abound but here everything is growing even in the winter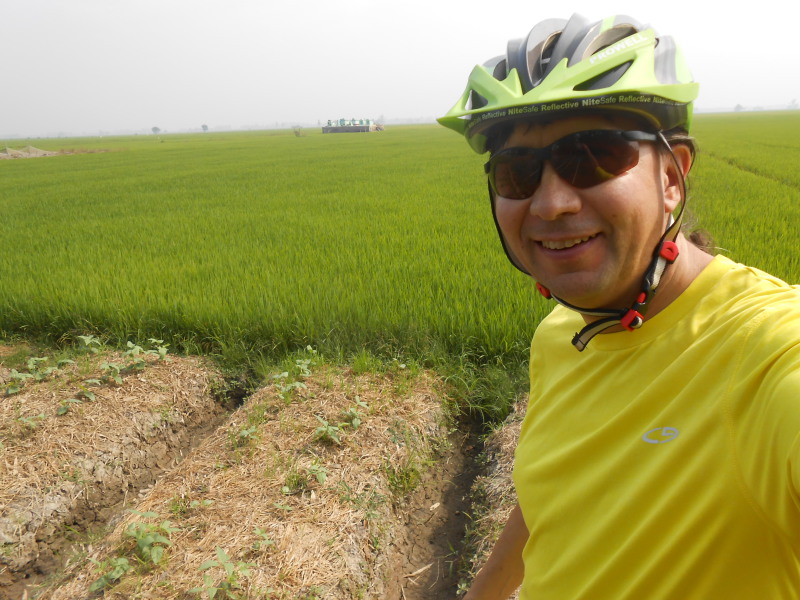 Vietnam also has "monkey bridges" across the canals. Our guide shows how to cross a canal on a monkey bridge, Bob and Ole follow: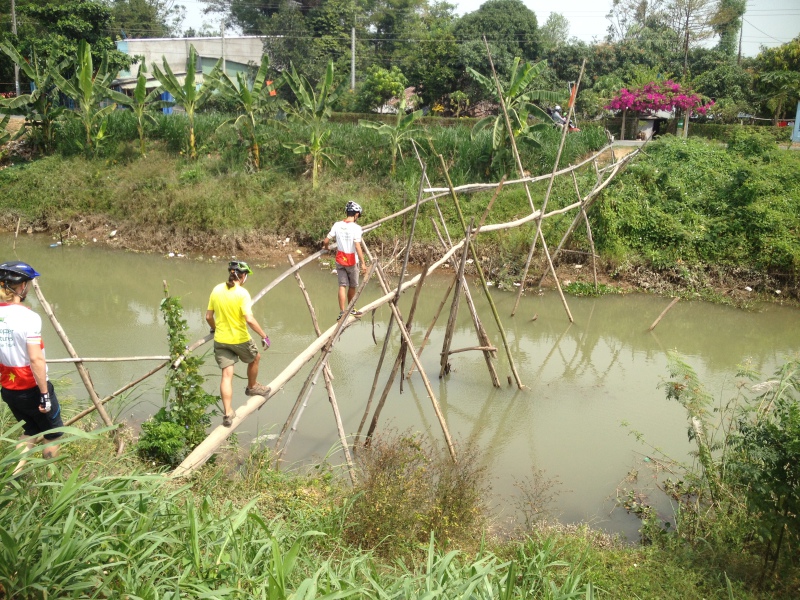 Lots of pictures here from our fifth day on the bike and first day in Vietnam
2016-02-09
Today we bicycle around the islands in the river around Phnom Penh. We get a tour of a silk scarf factory - from silk worms being born to coccoons, to spinning the coccoon raw silk into thread, and various looms making scarf patterns. Some very simple designs, here is a more complicated design: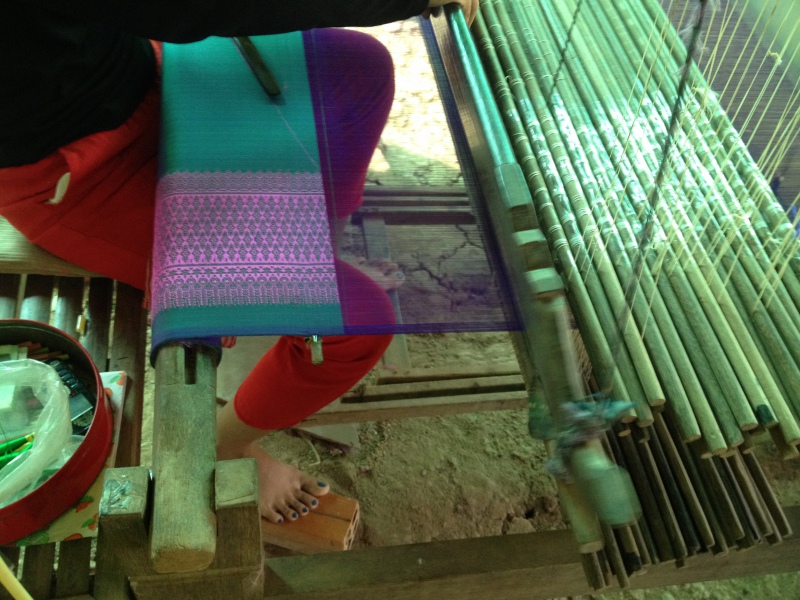 On the boat ride down, we enjoyed a gorgeous sunset over the Mekong River:
All pictures from our bicycle tour, boat ride, and arriving in Chau Doc: All pics from 3rd day on bike
2016-02-08
Rest Day in Phnom Penh. We see interesting stuff like Chinese New Year celebration dragons and drummers wandering through the hotel, differences between Tuk-tuk's in Siem Reap versus Phnom Penh, bicycle rickshaws: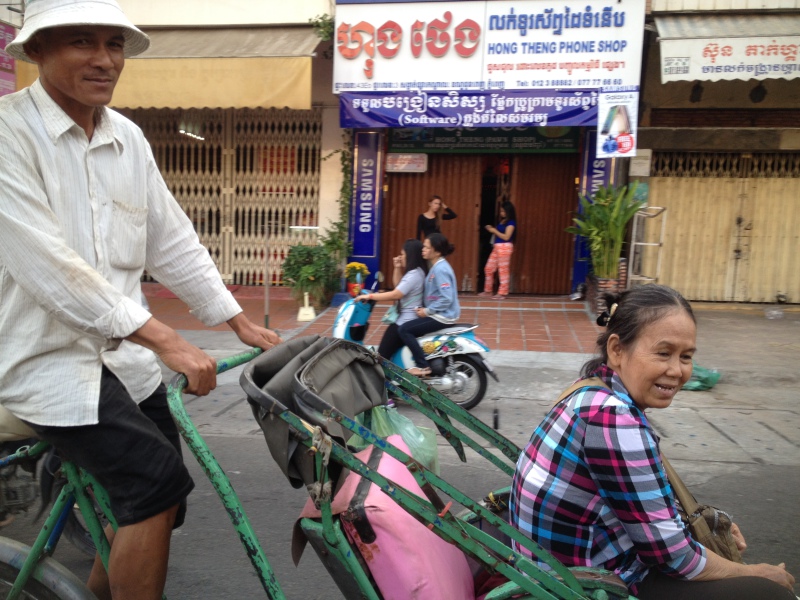 And more pictures inside the link - more food porn, how Tuk-tuk drivrs sleep inside their sedan...
All pictures from our day off in Phnom Penh
2016-02-07
Second day on the bicycles in Cambodia starts with a van transfer to the top of a hill (we get to bike down :-). Bathroom break on the way there includes a market with more fried bugs, and live ones! Here is a cute tarantula crawling on Sue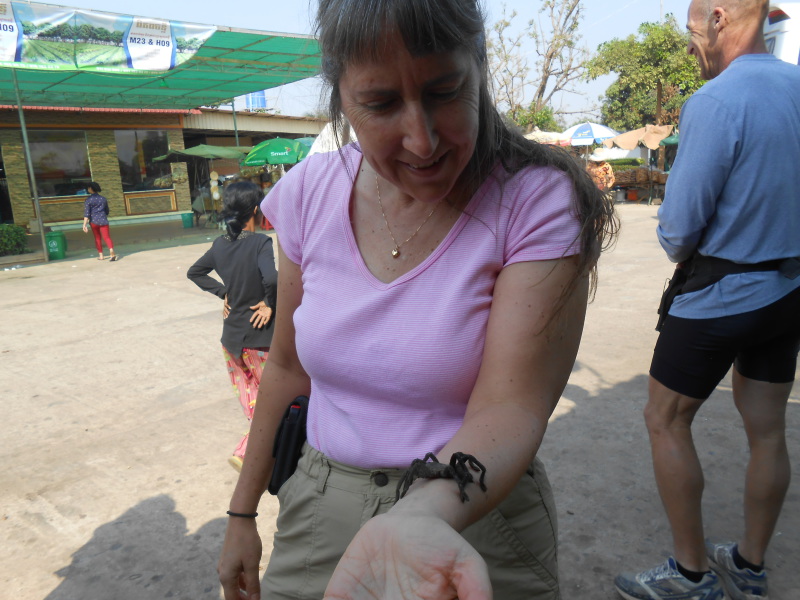 After the van takes us to up the hill, we do a short hike up to the very top of the hill which has two gorgeous temples - one old and one new.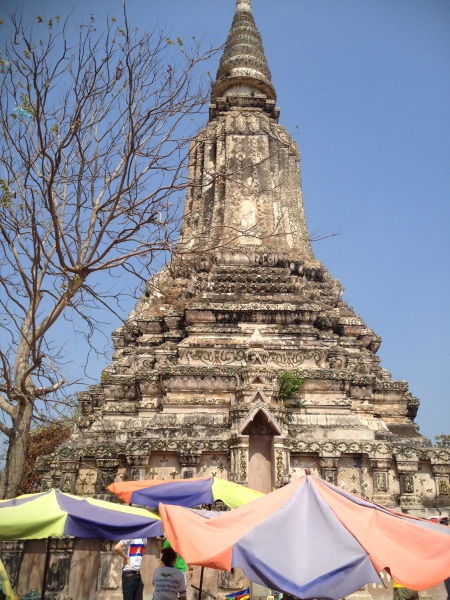 After a picnic lunch we set out on the bikes (downhill at first :-) and then flat for the rest of the day. We bike with cows on the road, see a cool bamboo train hauling logs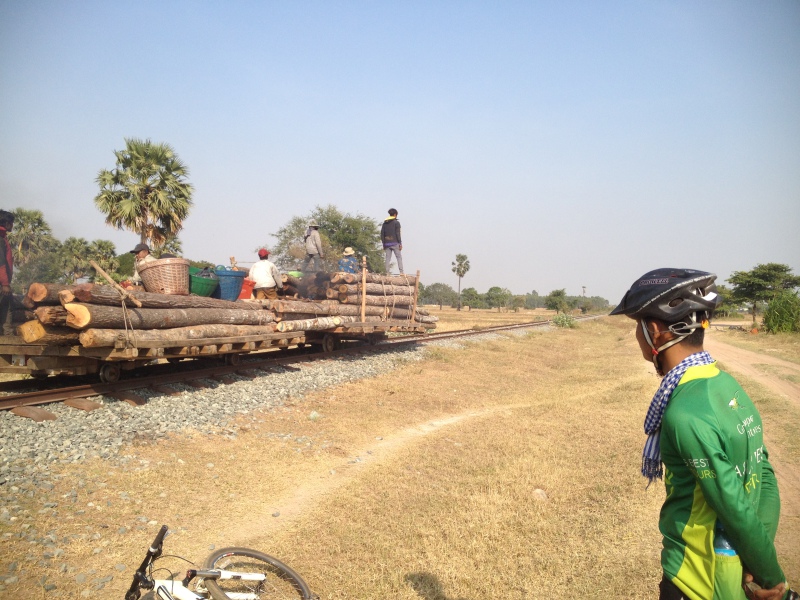 Second day on the bicycles in Cambodia
2016-02-06
First dinner with the bicycle group - appetizers is... bugs. Beetles, crickets, scorpions, tarantulas. Bob tries some. Yes really.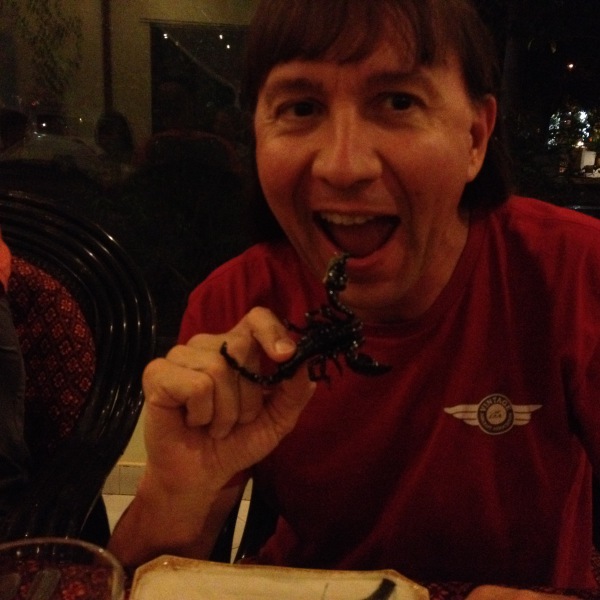 2016-02-06
Our first day on the bicycle tour from Siem Reap, Cambodia to Saigon, Vietnam with Grasshoppr Adventures. Great tour company!
We saw schoolchildren getting out of school, cycled through an older temple comples from the 7th century (pre-Angkor Wat) made of bricks not stone and a few of the ruins were also only still standing because of the symbiosis with trees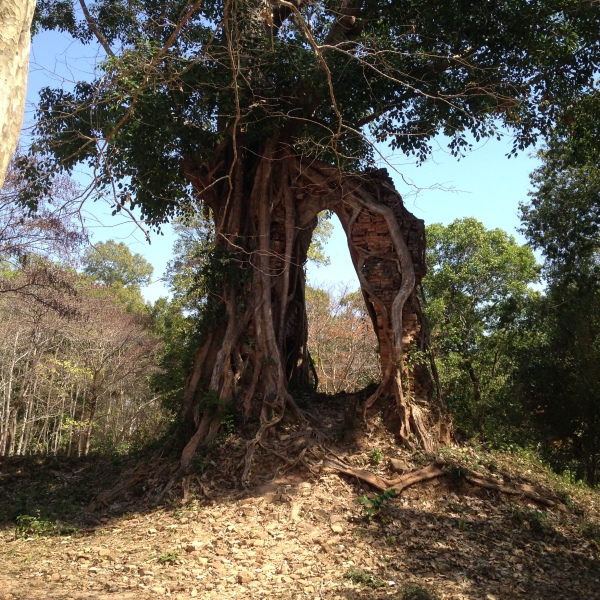 Water buffalo, mouth-watering fruit and munchy breaks, mosquito net on our bed in the hotel, lots of great photos here:
Lots of pictures from our first day on the bikes
2016-02-05
The Phare Circus has been around for a couple years and puts on a good enough show that we went back for a second show! They run one show for a week or so, then change to a second show. We were lucky in that our first night in Siem Reap was one show that we got last-second tickets for, then the show changed and we were able to book tickets another night. The first show we saw was Chills and the second was Influence. We thought the first was slightly better but both are good.
And the obligatory food porn - pancake from a street vendor - banana and nutella. Tasty!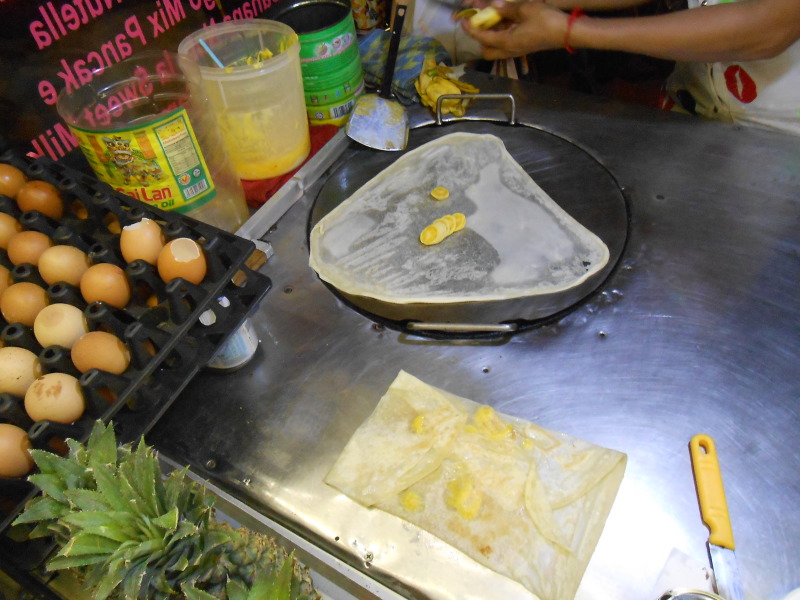 All pictures of the circus, dinner, cool Predator and Alien statues, what a JackFruit looks like before it's sliced.
2016-02-04
This afternoon we booked a short bicycle tour (with Grasshopper Adventures) on their "Angkor at Twilight" tour. I expected a group of 6-10 people but it was just me and Bob and guide!
We had a great tour, seeing HUGE fruit bats, stone carvers who make carvings similar to what was originally in Angkor Wat, go by one of the Killing Fields memorials and learn some of the history of the Khmer Rouge genocide. I had no idea it was that wide-spread (1/4 of the people in Cambodia were killed) and that it was so recent (1975-1979). This explains why Cambodia is so poor, why education is so important, why tourism is so recently growing.
We also tasted palm juice - collected from the flowers on the palm tree, saw more monkeys, and watched a beautiful sunset over the Angkor Wat moat.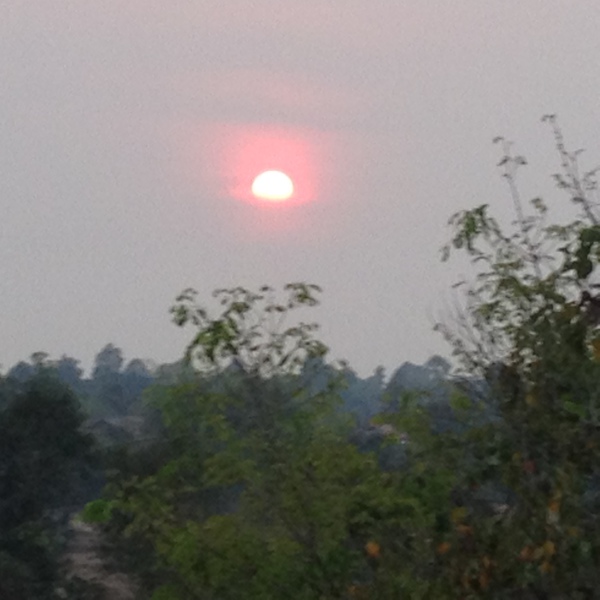 Lots of pictures here from our sunset bicycle ride to Angkor Wat
2016-02-04
Morning wandering Siem Reap, and lunch at an upstairs bar watching everything go by on the street below. This bird hung out in the tangle of electrical wires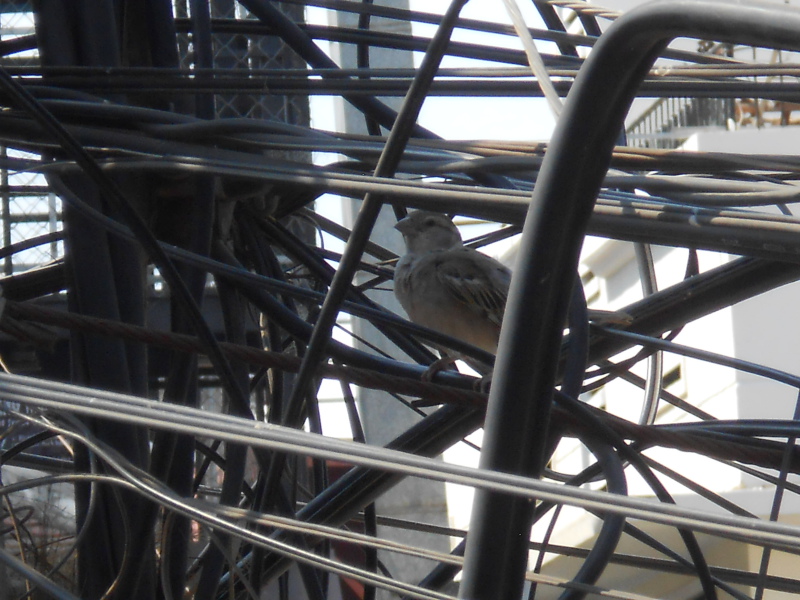 More pictures wandering Siem Reap
2016-02-03
Pictures of the bridges in Siem Reap at night
2016-02-03
Wonderful visit to the Angkot Wat temples - the main reason we came to Cambodia and to Siem Reap.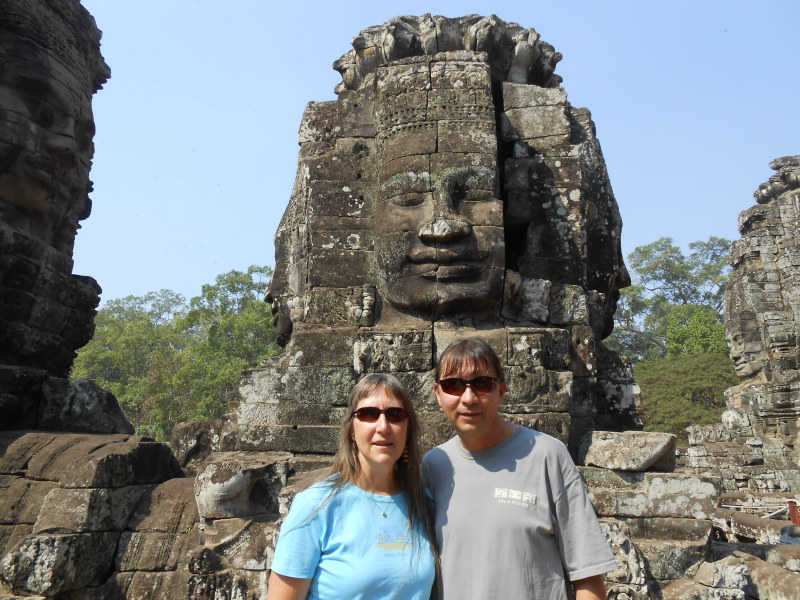 Temple stones and Tree are intertwined now. Neither can survive without the other.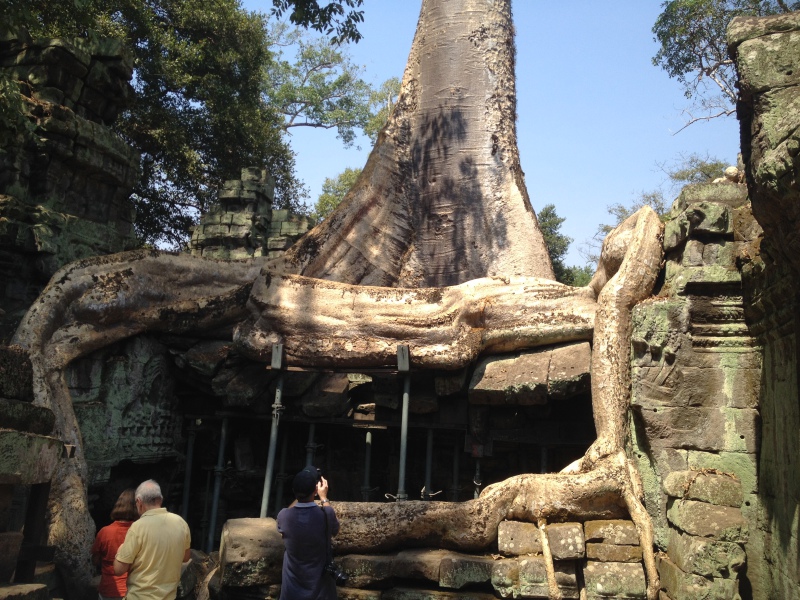 We go to the main Angkor Wat temple last.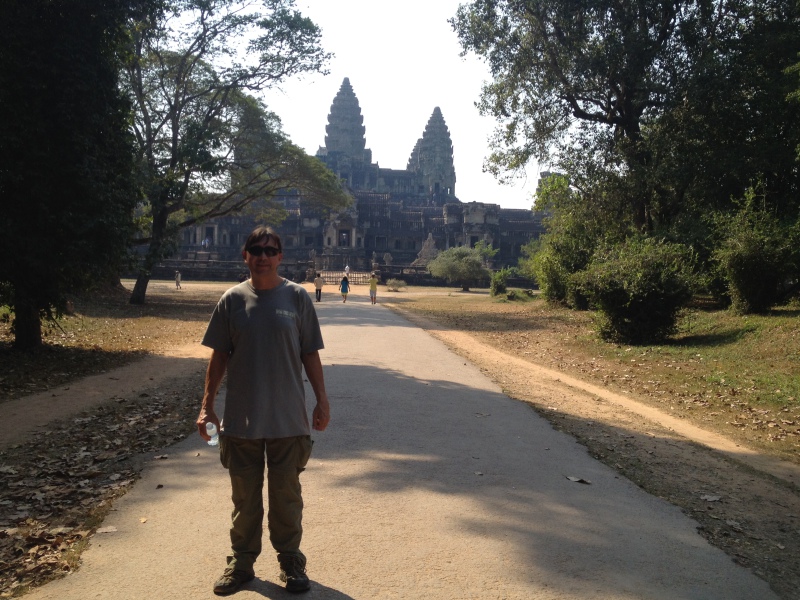 Tons of pictures here from Angkor Wat
2016-02-03
Another interesting breakfast for Sue, and weird molding on the stairwell at the hotel (instead of a railing)
2016-02-02
Today we travel from Kuala Lumpur to Siem Reap, Cambodia. We'll spend a couple days here wandering the temples etc before heading out on the bicycle tour.
We find a couple things take a little getting used to here - Tuk-Tuks, incredible electrical wiring that would give any engineer a heart attack, and traffic and scooters are much more insane than Malaysia.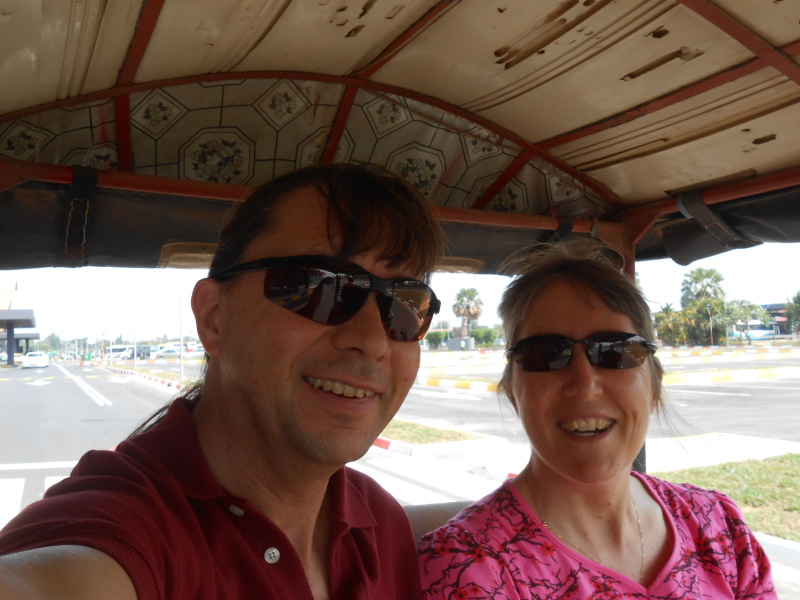 All pictures from our first day in Cambodia
2016-02-01
UHT milk. This milk has a room-temperature shelf life of 6-9 months. Yes months. Think of all the power the US could save if we could change from the current refrigeration methods, where milk lasts maybe a week. Think about just shipping milk to the poverty-stricken areas and disaster areas that don't have refrigeration. It would be awesome if we could have this in the US. The US is behind the rest of the world on this :-(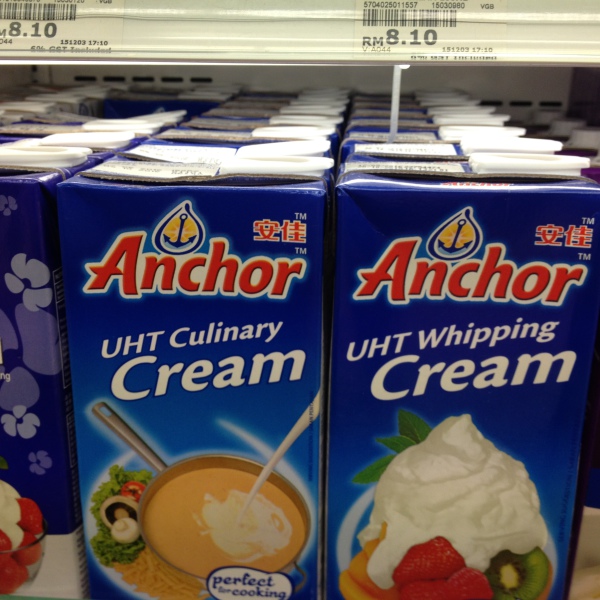 Otherwise, random stuff around Kuala Lumpur today.
Link to more pictues of lunch, dinner, grocery items...
2016-01-31
Dinner food porn - a whole tilapia fish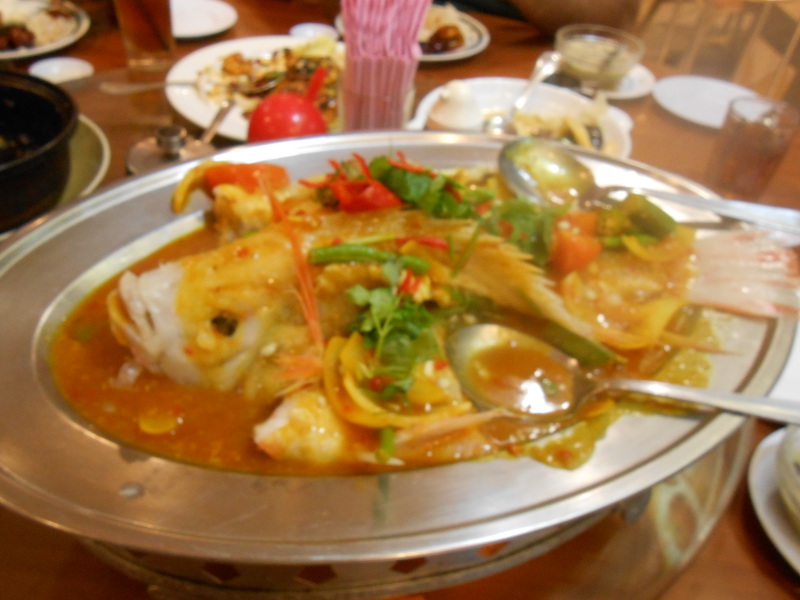 Link to more pictues of dinner with Paren and Anil
2016-01-31
2016-01-31
Flying! C172's! In Malaysia!
Air Adventure Flying Club graciously hosted us and allowed us to become members for a day and rent two of their planes and instructors, for a scenic flight around Kuala Lumpur.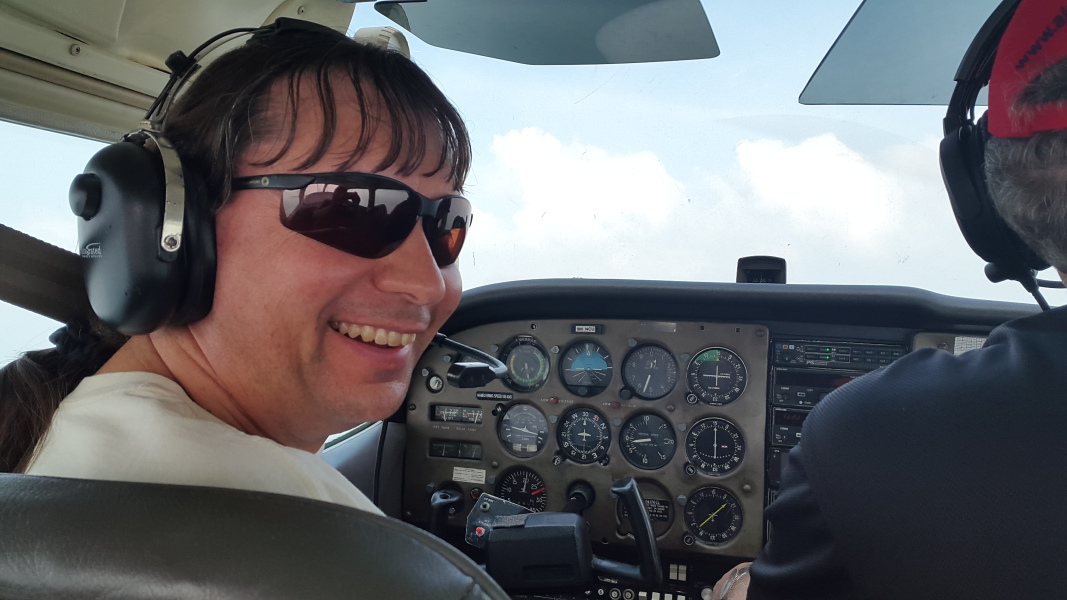 Tons more pictues of flying around KL, and as always more food porn too
2016-01-30
As we wander back through Kuala Lumpur and on to Cambodia and Vietnam, we'll be running the SPOT tracker more. This is a GPS tracker that I use when I fly and when I hike and such. The link is:
This is both a "where in the world is Sue" and a way for search & rescue to find me if I am ever in a plane crash, since the Colorado mountains can be very remote with no cell phone coverage.
2016-01-30
Today we hopped a commuter flight on FireFly airlines from Penang to Kuala Lumpur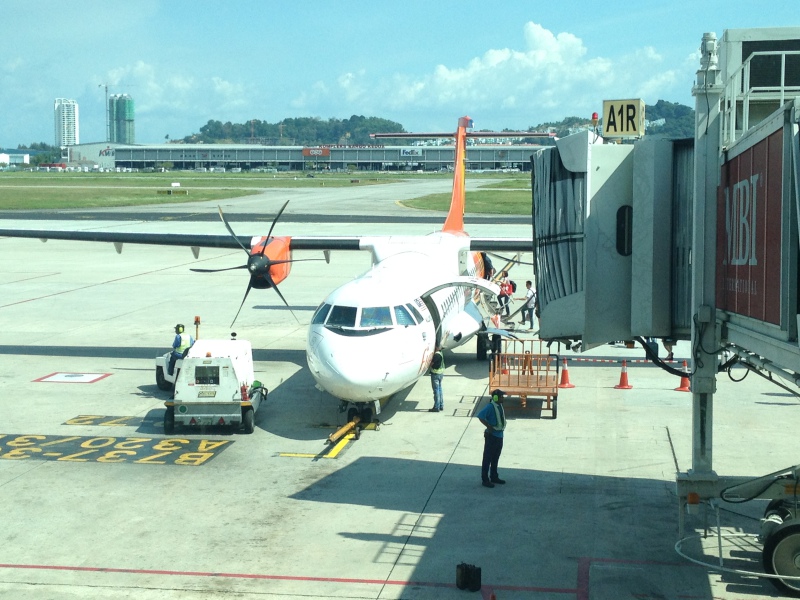 Plan is to visit Raj again and drop off all the stuff we don't want to take on the next leg of our vacation to Cambodia and Thailand. Coats, jeans, work clothes, etc. We'll be back to bother Raj again after we finish the bicycle trip.
All pictures of Firefly flight, more food porn
2016-01-29
Today for lunch, we went out for lunch at I-Dragon with a really cool specialty like Dim Sum but not - Xaio Long Bao.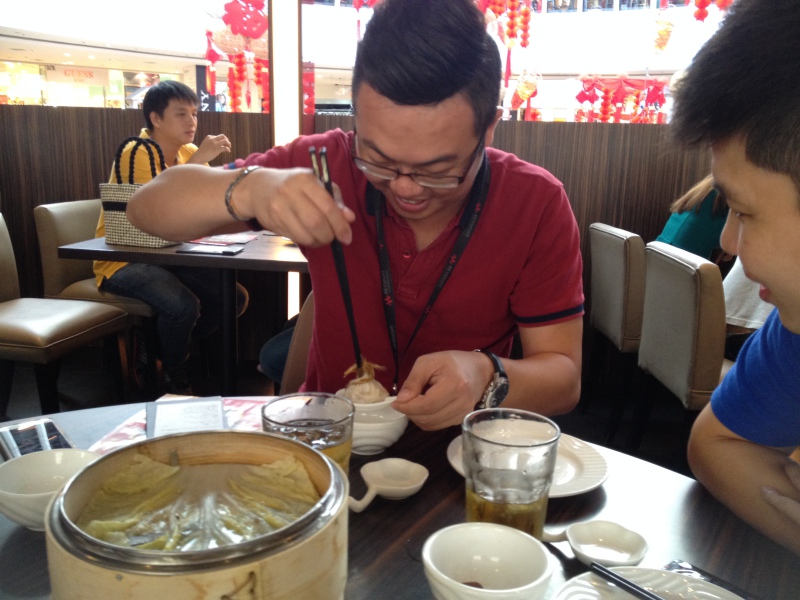 More pictures of lunch, link to how the Xaio Long Bao is made: Plus cool parking garage technology
2016-01-28
Today for lunch, Hwai Min took her entire team out to lunch. Fun social gathering and great food!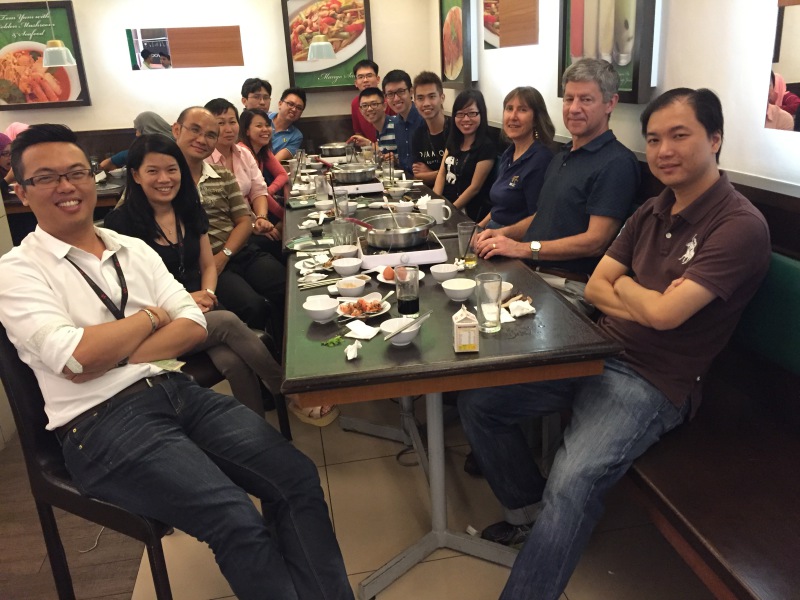 More pictures of lunch and how the food is cooked here: Eating jellyfish, what is fish glue...
2016-01-27
Today lunch out at a Korean BBQ restaurant. Great food and lots of stuff I'd never seen before, like this is all free appetizers: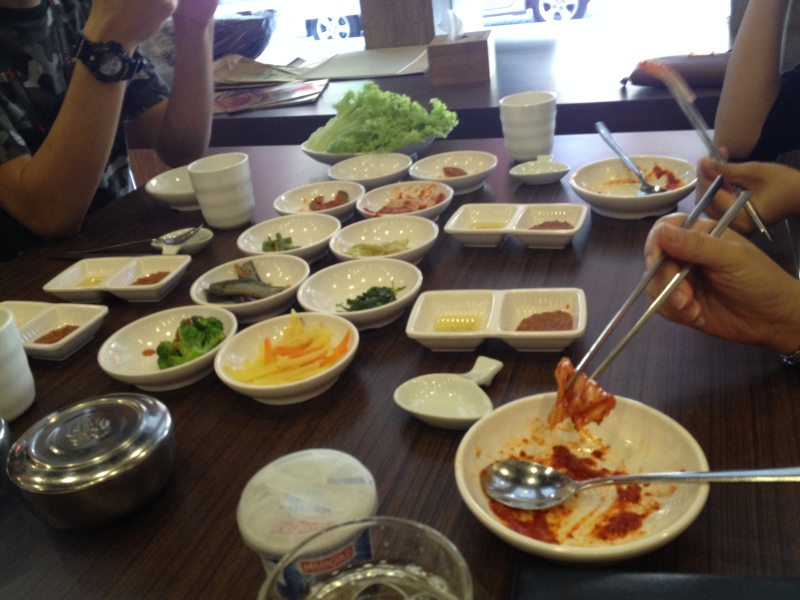 All pictures from lunch out: More food porn
2016-01-26
Tonight we wandered Queensbay mall and its food court again. Typical menu at the food court: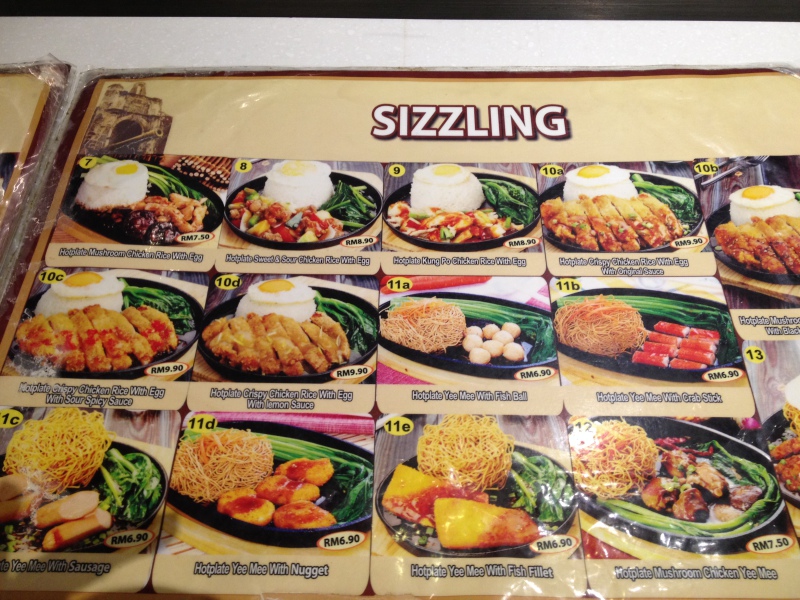 More pictures of interesting stuff around the mall including Star Trek uniform, Minions stuff... More food porn, suit of armor, etc...
2016-01-25
Today was an early before sunrise wakeup in order to get across the island to meet up with the Monday Morning Penang Hill Hiking Group. If you have any interest in hiking on Penang Island on Monday mornings, join their facebook group. They're a very fun and welcoming group, and good hikers (they kicked my butt! :-) More info at this link: Monday Hiking Group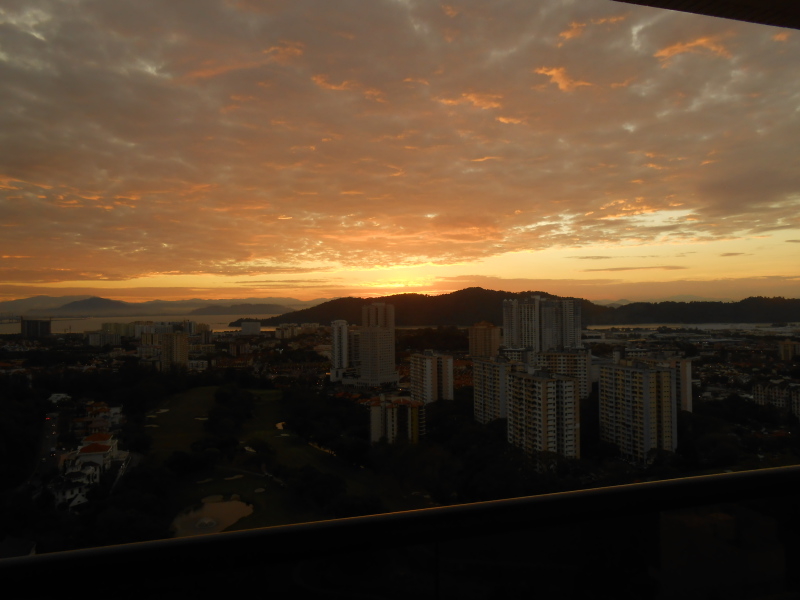 Water break.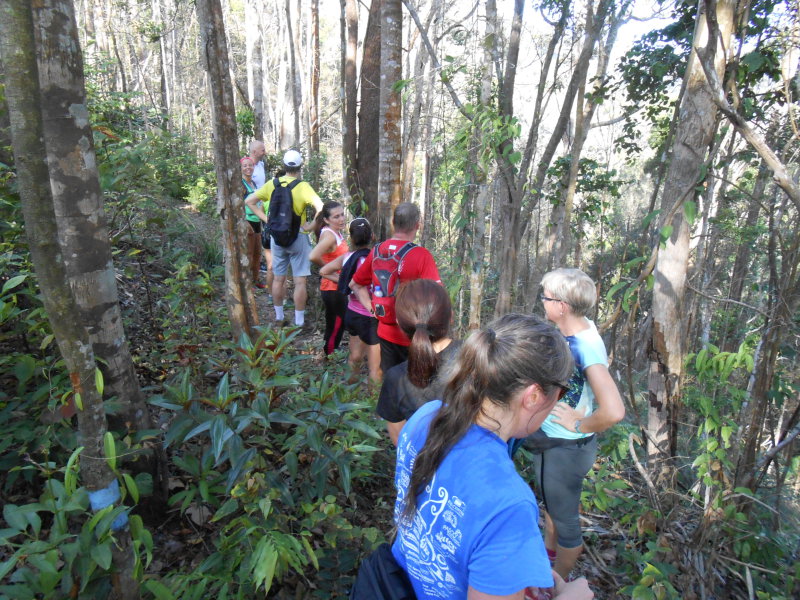 Group photo. This was a very fun group!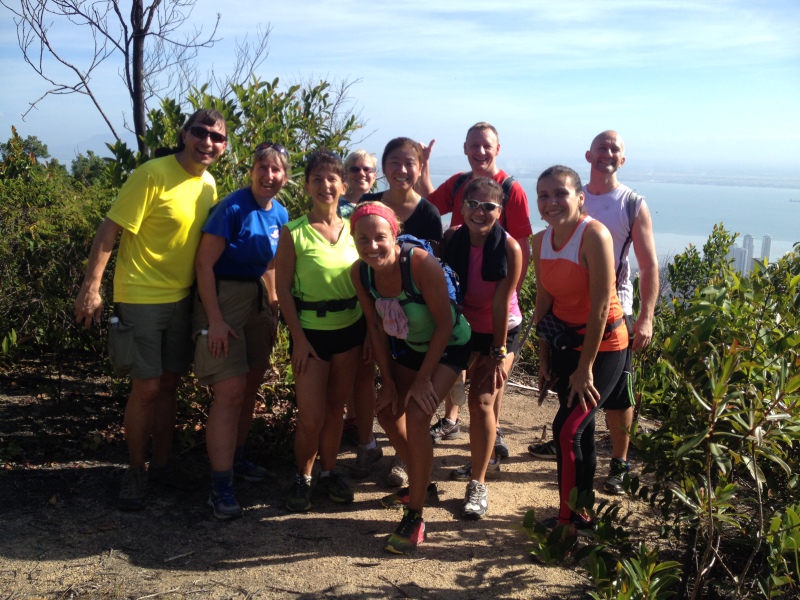 Yet another beautiful vista.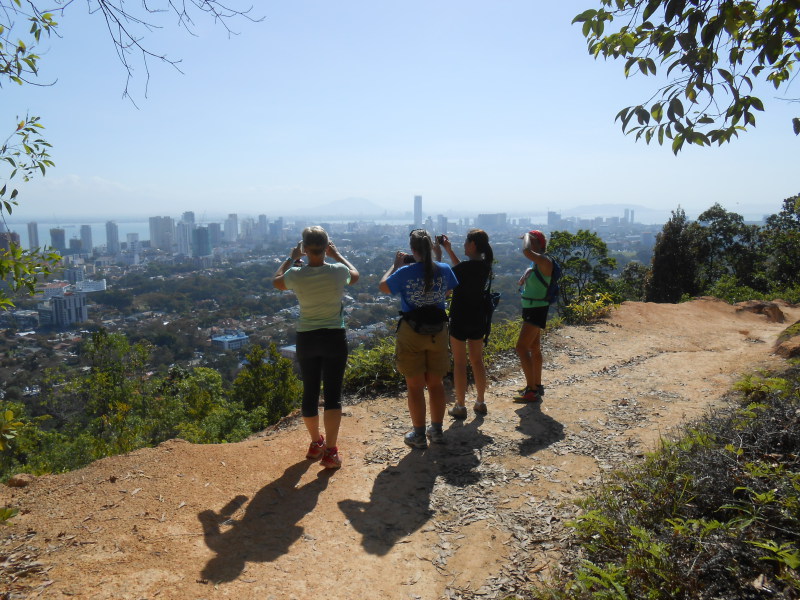 Penang Hill's famous Station 5.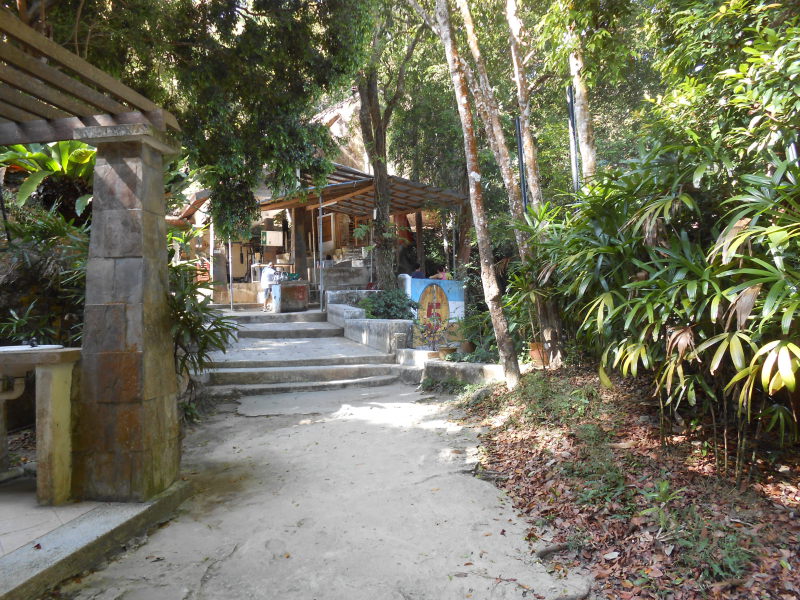 At the Juice Bar at the bottom, words to live by: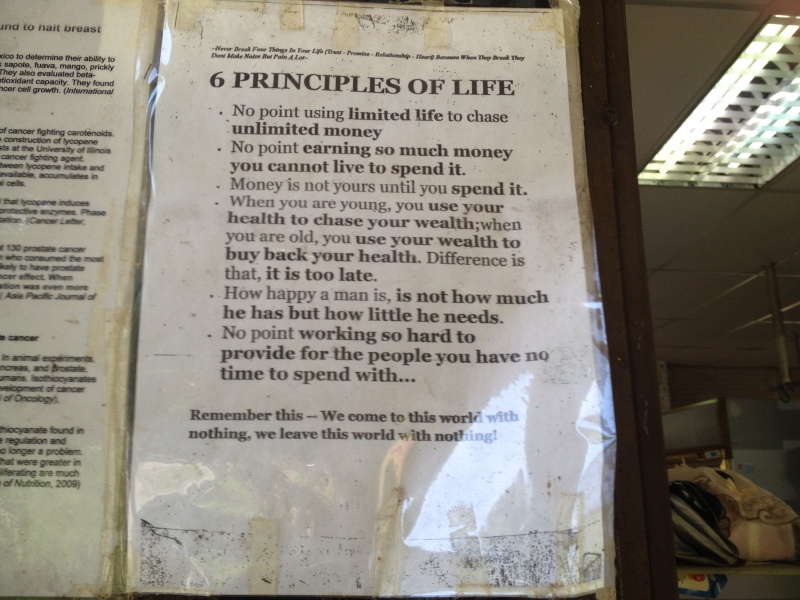 Pictures of the day: Penang Hill hike...
2016-01-25
Koi in the fish pond were all munching on whatever was growing on the rock. Don't know what it was that had them so interested but they were all going after it.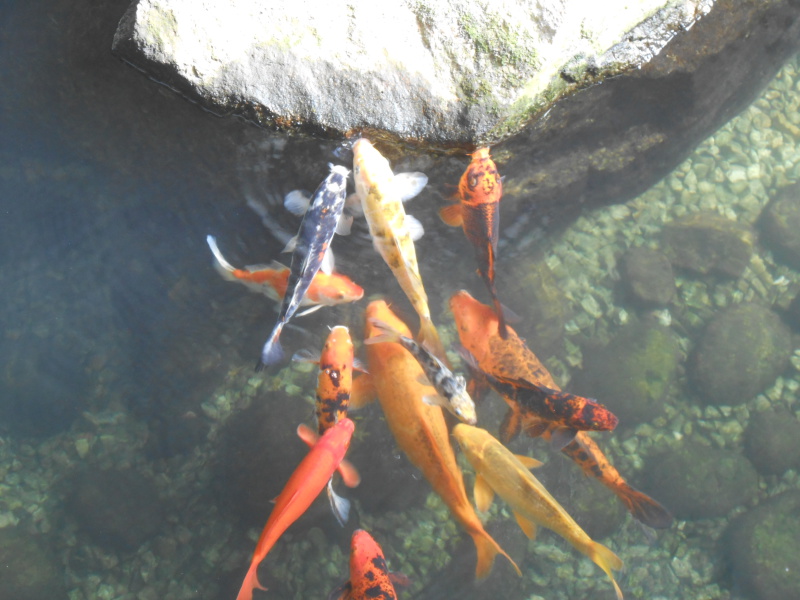 A couple of more pictures of the Koi munching: Koi munching on the rock...
2016-01-24
We had such fun hiking Bukit Jambul hill Saturday and then lazing by the pool that we decided to do the same thing today :-)
This time we noticed some other things along the way - how different licence plates are in Malaysia compared to the US, a Lotus car, and from the hike another pretty butterfly and more gorgeous views (less humid/foggy today). Also some things we hadn't noticed yesterday like a lot of the trees are being milked for their sap!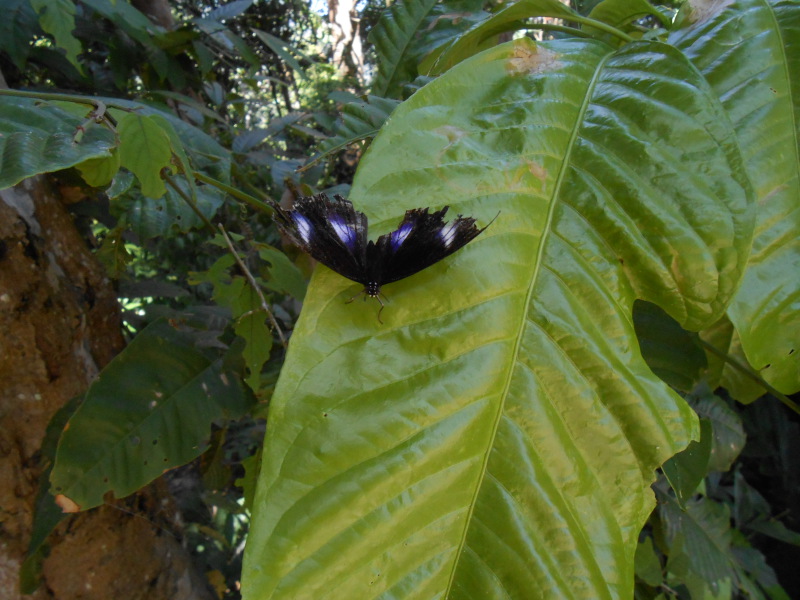 All pictures from today: Lotus, another butterfly, sap...
2016-01-23
The Equitorial Hotel brochures had info on a jogging and hiking trail near by so we decided to try it. We only got lost twice on the way to the trailhead :-) Once we found the trailhead, the signage was awesome. There are a lot of trails criss-crossing the hill so without the great signs it would be easy to take the wrong one and wander around...
Huge thanks to all those who created the trail with all the steps, and the great signs - much appreciated!
It's only a 30 minute hike to the top (steep though - mostly steps!) and about 15 minutes down.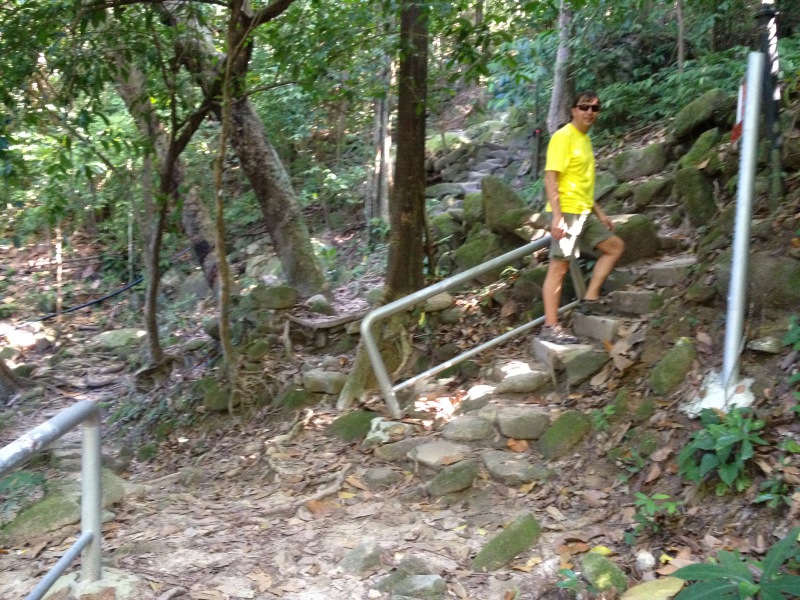 We had a butterfly who really liked Bob's bright yellow shirt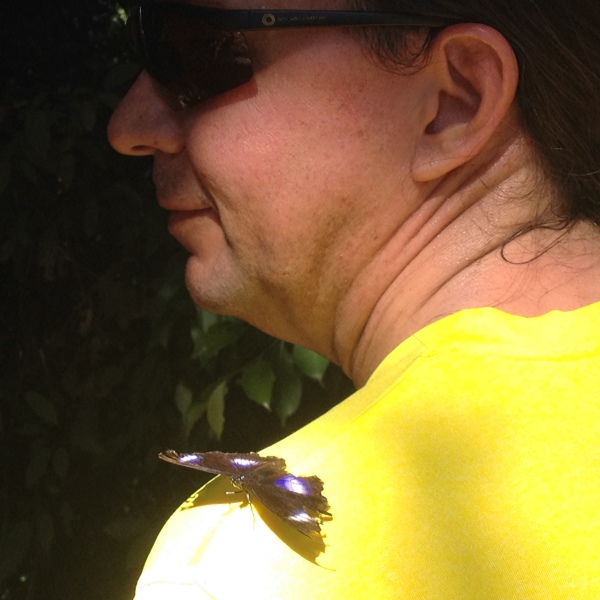 And the view from the top is gorgeous!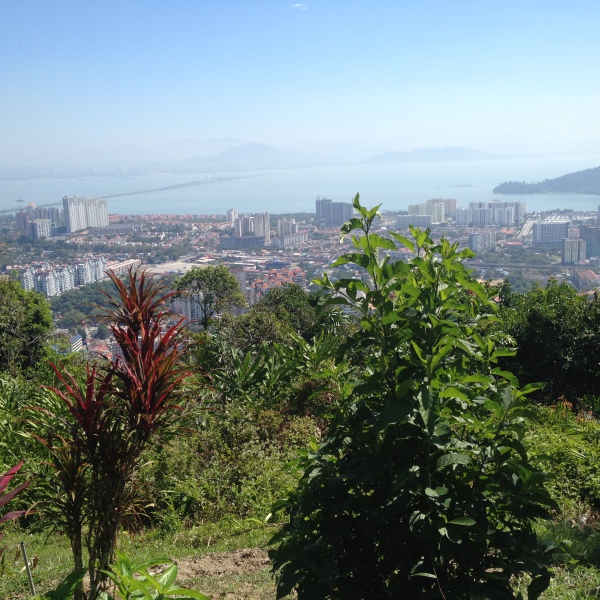 All pictures from the walk to the trailhead, how to find the trailhead, and hike up and down, close up of the butterfly...
gorgeous views from the top
2016-01-22
Another interesting breakfast for Sue: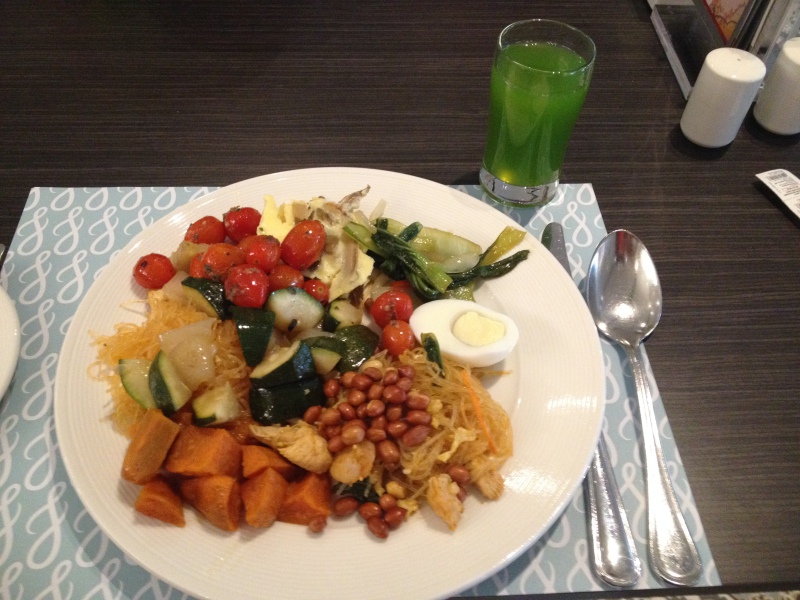 Lots more pictures from today including an interesting juice/jello drink, interesting packaging for m&m's, very cute vaccuum, and a beetle with insanely long antenae:
2016-01-21
Breakfast and dinner food porn for Bill Tucker - Sue's breakfast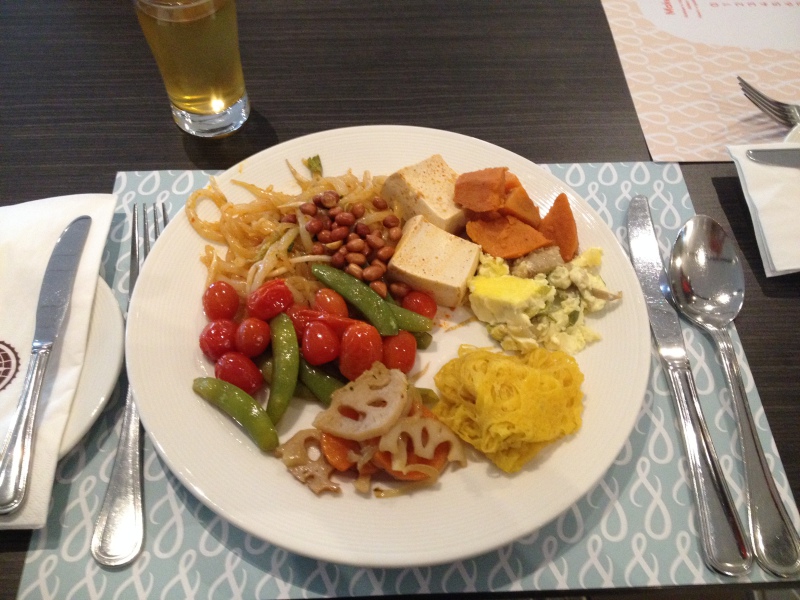 Bob's breakfast is more traditional (in link below). Also in link below lots of pictures of the Koi Pool here at the hotel, dinner food pics, and trying to get pictures around the pool at sunset.
All pictures from today including details of what are those things Sue is eatinng:
Breakfast, koi, sunset at pool
2016-01-20
View from the breakfast table: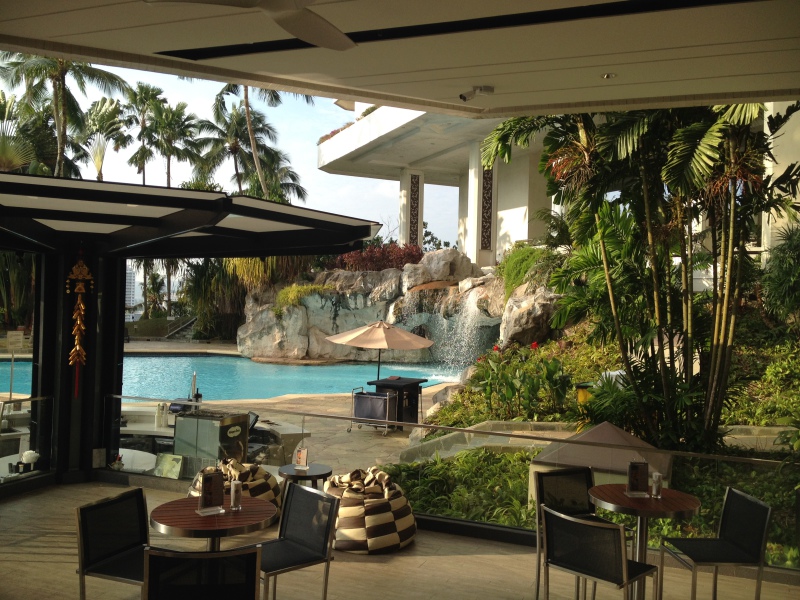 All pictures from breakfast table:
the pool and yellow watermelon
2016-01-17
Today after sleeping in (Sunday) we took the hotel shuttle to Queensbay Mall again. Decorations for Chinese New Year (week of Feb 6) are getting more elaborate.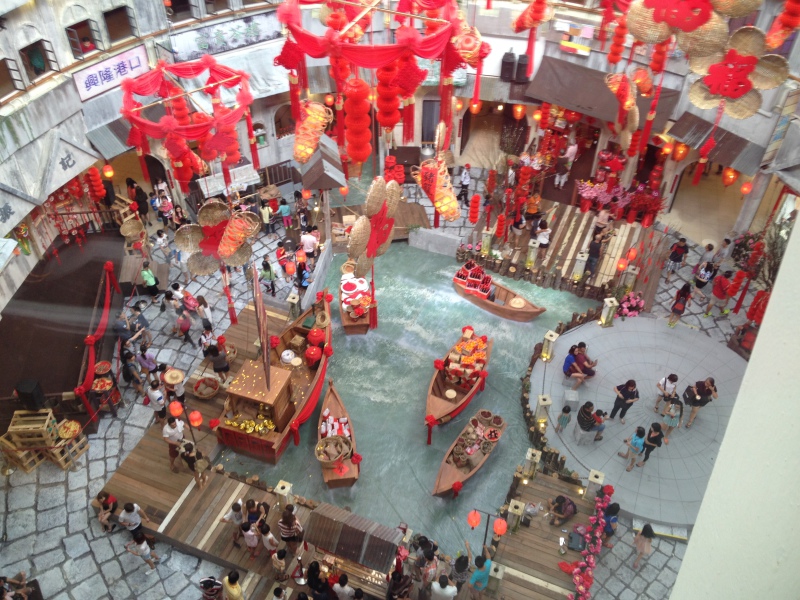 Also, a way cool roller shopping cart, fun stores. All pictures from the mall today: Queensbay Mall
2016-01-16
Sue's co-worker Ping Wei offered to chauffer all 4 of us up to Penang National Park for a day of hiking and sightseeing. Pei See and Yen Liang were going to come too, and when Ping Wei had to drop out for a family emergency, Pei See and Yen Liang did the driving. THANKS!
They drove us up to the Park (about 1.5 hours each way). At the Park we hiked (uphill!) and about here Pei See's shoe's sole started to de-laminate but she soldiered on.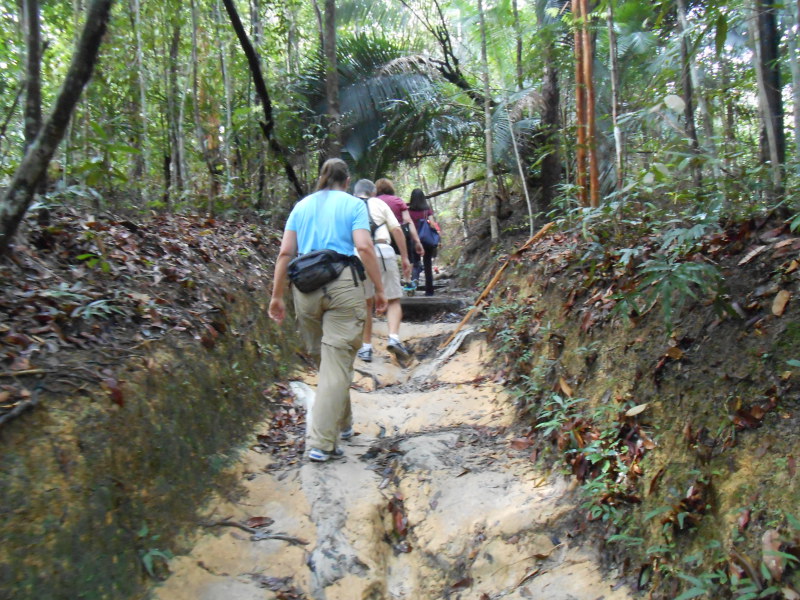 More uphill to the top, with an interesting rock cut at the top. Then downhill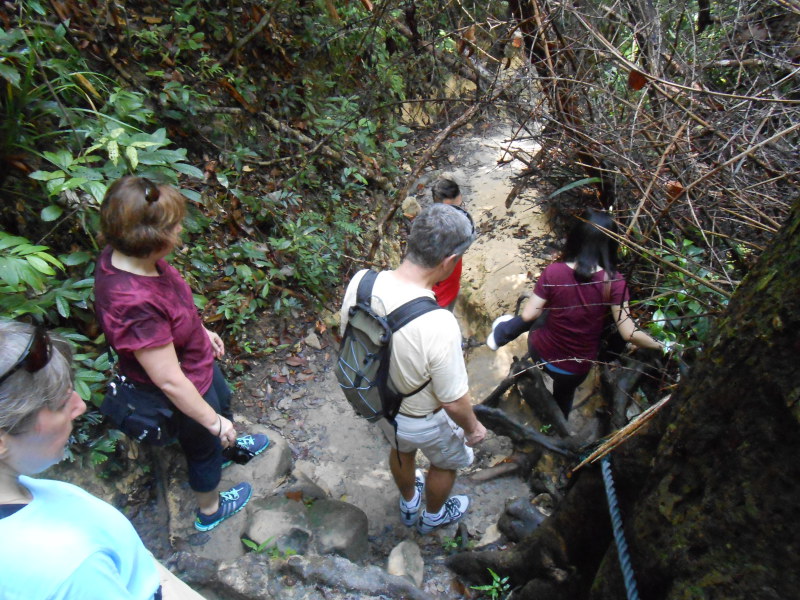 to the beach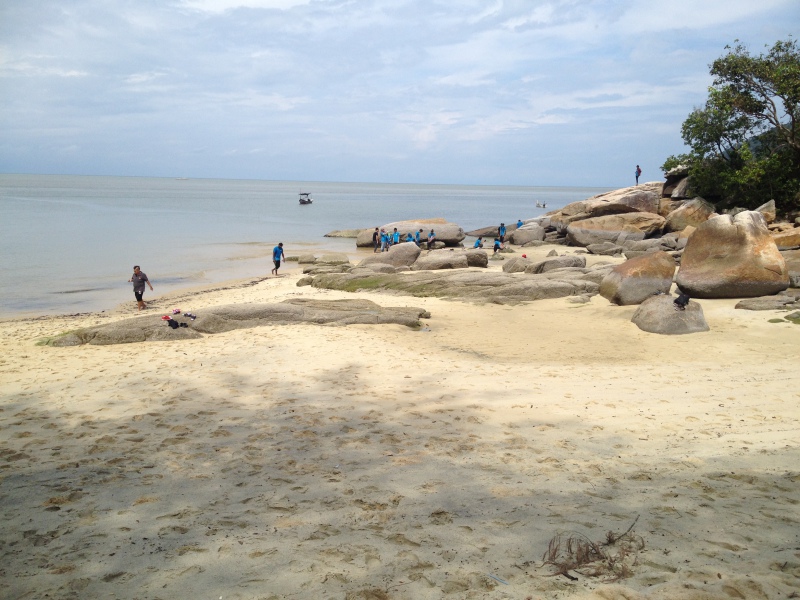 And a rare meromictic lake. Then - baby turtles! Just born today!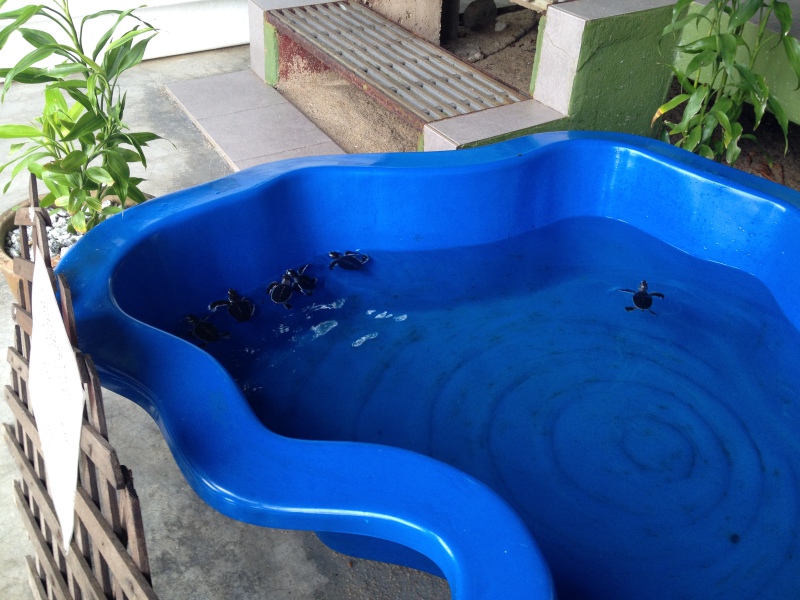 Then we hung out waiting for the boat that would take us back to the entrance - good thing we'd already gotten the boat reservation given the state of Pei See's shoe!
By now we were all hungry for lunch so off to Tree Monkey restaurant (good!) then we went to Georgetown to see some temples. Pretty neat! Then across Georgetown for the best Chendul dessert anywhere. Stuffed full of great food and tired out, Pei See and Yen Liang took us back to the hotel. Great day, thanks so much Pei See and Yen Liang!!!
All pictures from the Park: Ton of awesome pics!
2016-01-14
Also on the 14th we wandered the local mall, Queensbay mall. This place is huge, 3-4 floors and quite long. In the middle is a 4-story Chinese village re-creation, and they're adding to it every day.
Great food court on the top floor too!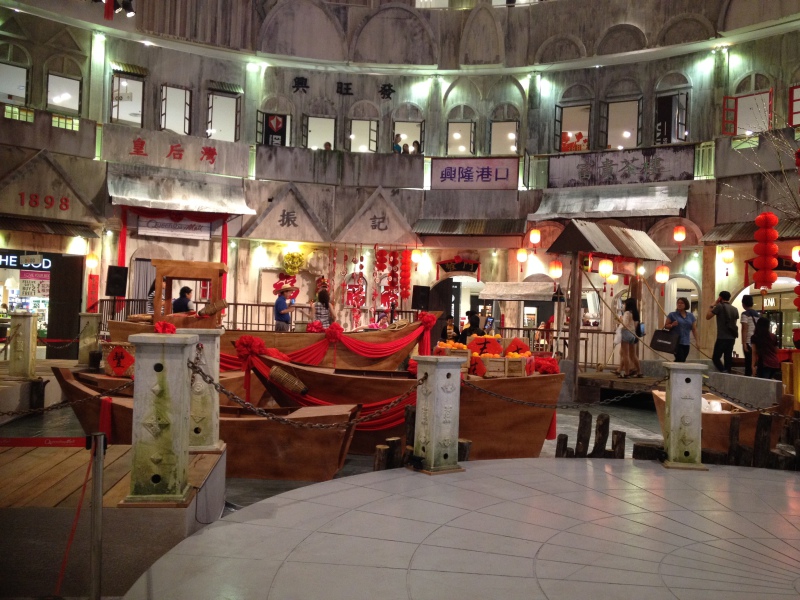 All pictures from wandering Queensbay Mall
2016-01-14
Bob wandered around the hotel, noticing all the antenna pointed at the other hotels.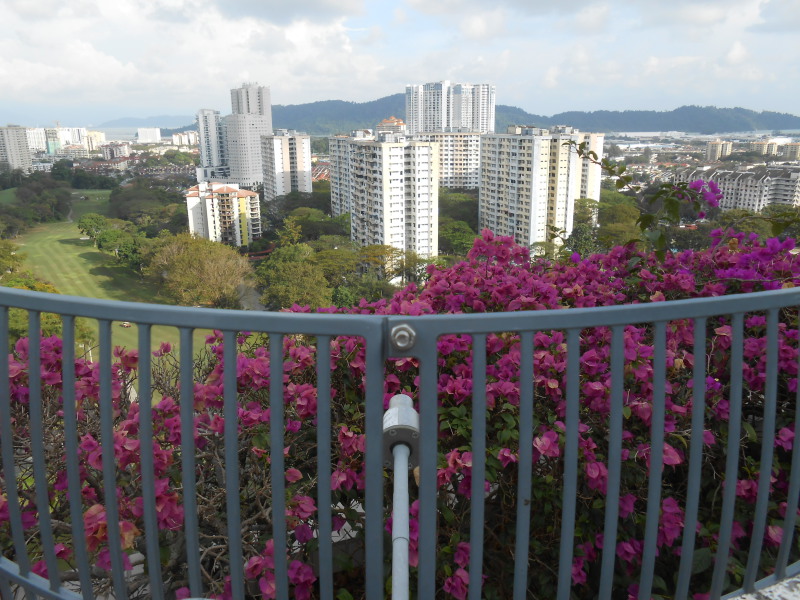 He also found an interesting garden maintenance area, with a lot of plants, flowers, shrubs in the process of being started and grown, for placement around the garganteum hotel grounds.
All pictures of antennas and garden area
2016-01-11
The Equitorial hotel has a very large and very pretty Nature Trail area.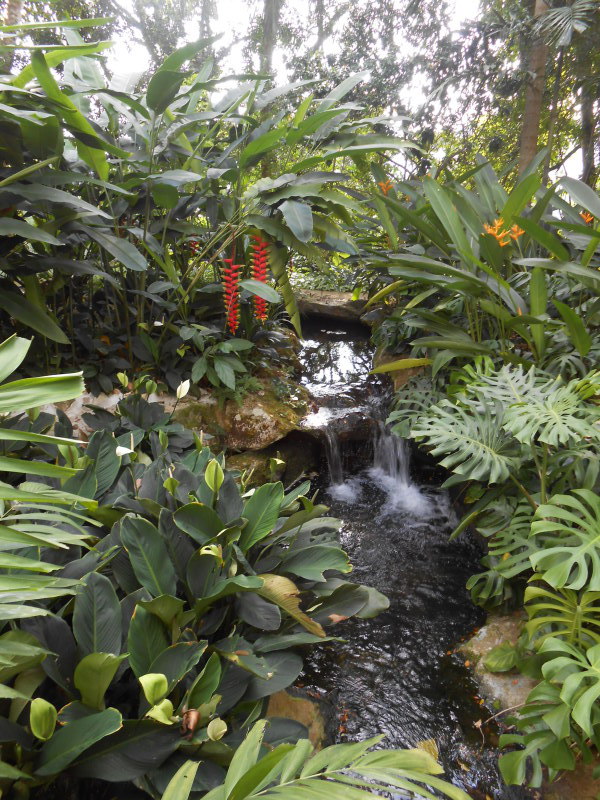 All pictures from the around the hotel
2016-01-10
We took a nice coach bus from KL up to Bayan Lepas in Penang (Penang is actually a pretty big state in Malaysia, Bayan Lepas is the town with Keysight plant). Coach company was named 'Nice' :-) and it was quite nice with tons of legroom, in-seat entertainment, and lunch served. Supposedly had wifi too but I didn't find any. Ah well, we took the coach to see the countryside and the views on the way up were pretty cool! Mostly palm tree farms with occasional wild jungle in between.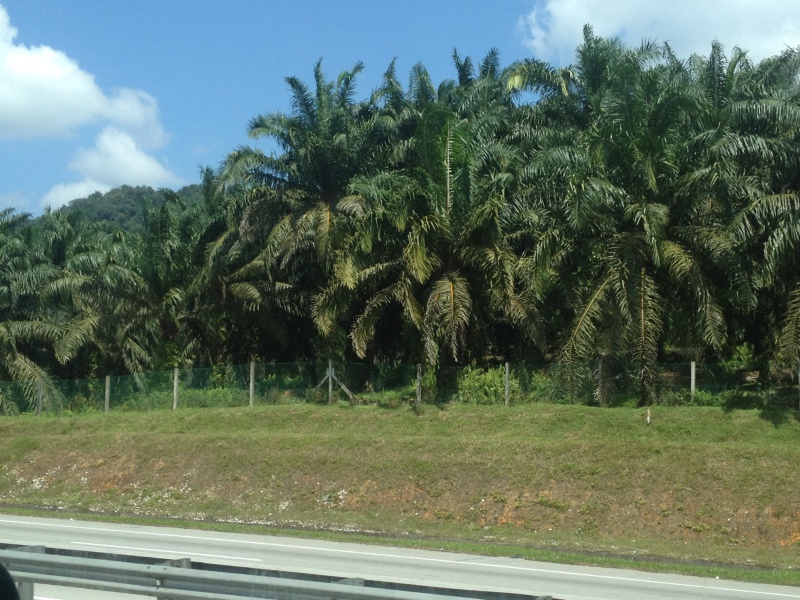 After we crossed the bridge to the island Bayan Lepas is on and hopped off the bus, was easy to find a taxi to the hotel. Equitorial hotel is up on a hilltop with beautiful views, tho after a while it gets a bit isolating to be up on a hilltop away from everything.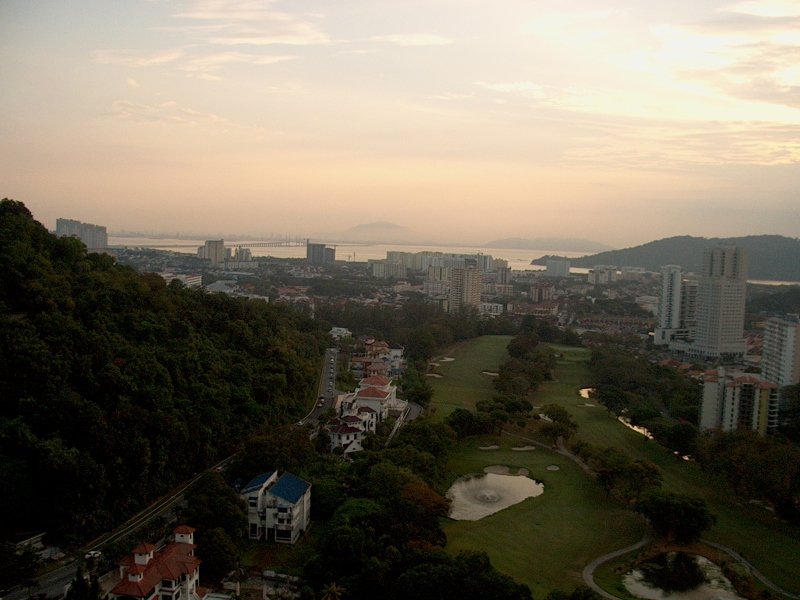 All pictures from the coach trip up to Penang and view from the hotel balcony KL to Penang Jan 10 2016
2016-01-08
We arrived in Kuala Lumpur to stay with Bob's college buddy Raj for a few days. Unfortunately United left our checked bag behind :-( We filed the usual lost-bag request at the KL airport... Raj patiently waited while we did that even though our flight had arrived just past midnight local time so it was pretty late by then.
After a good nights sleep and a nice lazy morning hanging out on Raj's balcony...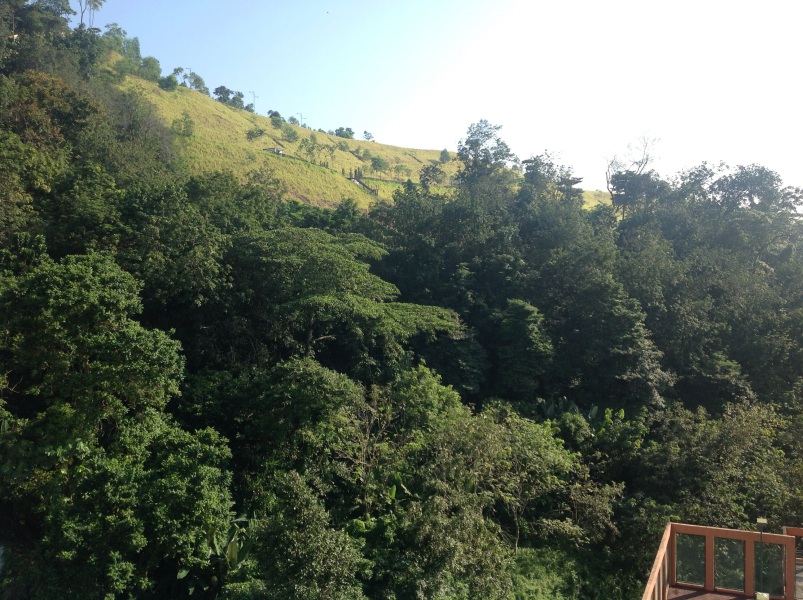 Raj loaned me some shorts, as all mine were in the checked bag :-( Raj then chauffered us all over town to check on his dad and have a great chicken curry lunch by Sri, then to hit an ATM for local currency, hit an IT mall (wow an entire mall of IT / cell phones / anything geeky!) so we could get local SIM cards for our cell phones, buy some local fruit, buy coke and diet coke, buy some q-tips (Sue had neglected to bring enough for 6 weeks) and head to a local place for a great dinner. We had heard nothing from the KL baggage folks so Raj called them and they said they'd sent info requests to SFO and Narita but supposedly no responses yet...
Later that evening Raj's wife Nancy arrived, also flying into KL coming back from a long Christmas visit with relatives.
She however flew good airlines so her checked bag arrived with her.
We hoped that our lost bag would arrive that evening (the same flight one day later) but no luck. But Nancy is a veteran world traveller and she started the search. Took quite a while to find a phone number for United that anyone would answer (the numbers on their websited didn't work). She finally got to a person at United who confirmed our luggage had made it out of SFO to Narita. United claimed they had handed the bag to Al Nippon Airline but that ANA had not confirmed receipt of the bag. So next Nancy started on the search for a phone number for ANA. That was easier and ANA was very helpful and agreed yes they had not confirmed receipt of the bag - because United was still sitting on it! Sigh. Nancy asked ANA to call United to move things along. As far as we could tell from the tracking and despite being assured by United agents at SFO that the bag would transfer at SFO the bag sat in SFO until being found and transferred on.
After Nancy did all the phone calls, Raj and Nancy were also taking us out for lunch at a cool local place where we ate off banana leaves.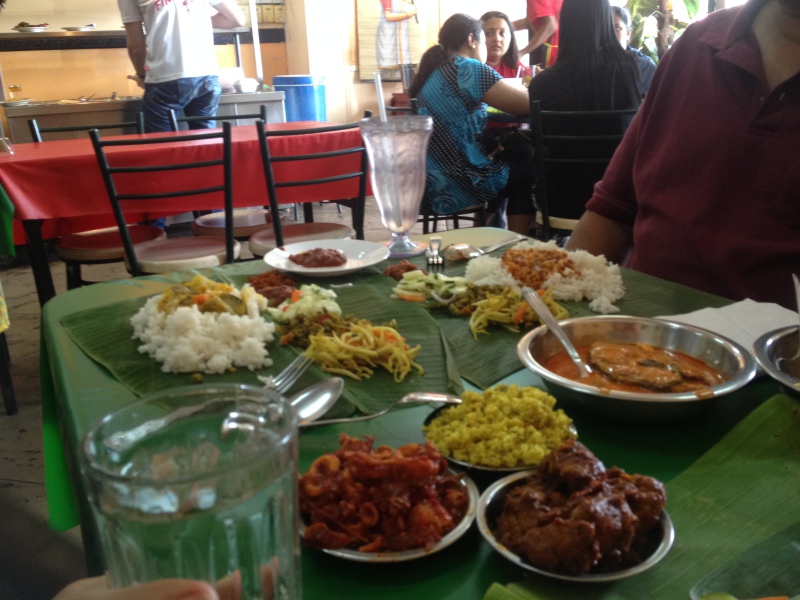 Then all over KL for sightseeing - to the Kuala Lumpur Tower where we walked around the bottom but they wanted like $25 to go up it just to look out... nah. So next to the Petronas Twin Towers where we had some fresh squeezed juice in the mall food court there, and then walked around the towers.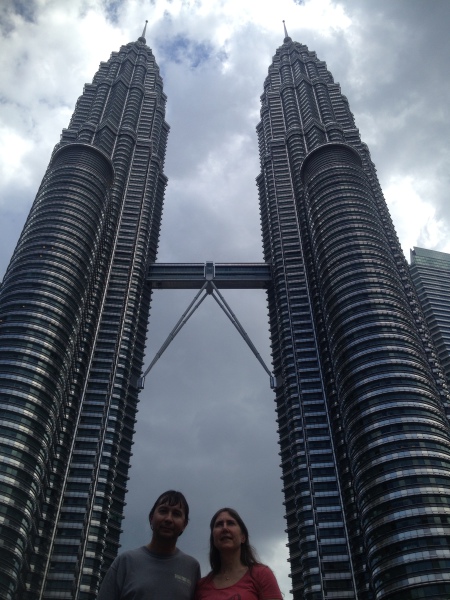 Then to the way cool Batu Caves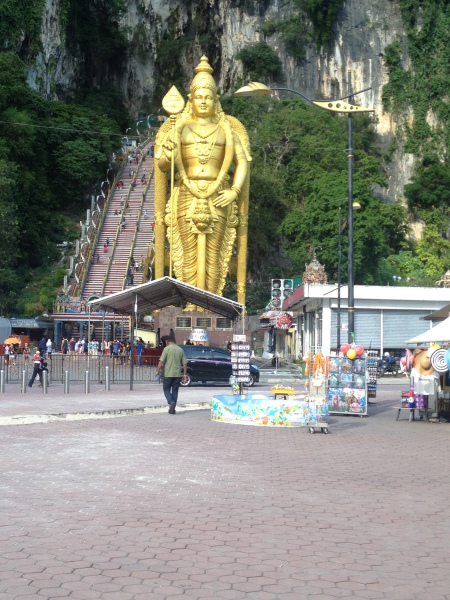 where we hiked up the 200-some steps into the temple.
Inside is amazing with more stairs up to a larger chamber inside, open at the top, with tons of statues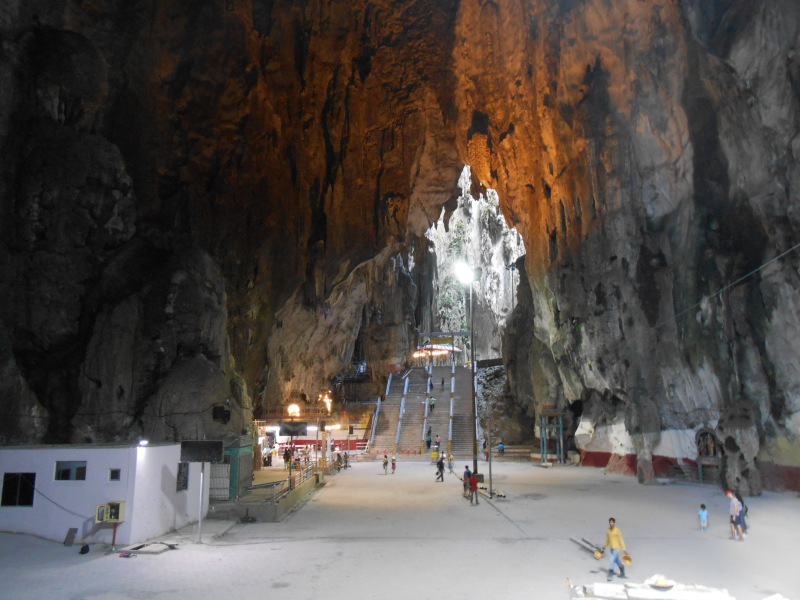 Tired out, we headed back to Raj's condo for a wonderful dinner at a restaurant in their condo complex. Nancy made another call to ANA who confirmed United had finally been kicked into transferring our lost bag to ANA who got it onto the flight to KL. And ANA was awesome in that the bag did arrive at midnight! Raj got the phone call at 1am and said "deliver it NOW" and stayed up until the bag arrived at his condo about 3am. Which was just in time because we were leaving in a couple hours heading to Penang! HUGE thanks to Raj and Nancy and ANA!
Learnings: 1) never book a morning flight through SFO, arrivals can and will get delayed at your departure airport for 3+ hours until the fog lifts, so you take off 3 hours late. Meanwhile your connecting flight departing out of SFO takes off as soon as the fog begins to lift, only 30 minutes late.
So you're guaranteed to miss connections. 2) Never check a bag on United. Just... don't.
All pictures from our first couple days in KL: KL Jan 8-10 2016
2016-01-07
All pictures from our hotel in SFO (window into the bathroom - how odd!) and sunset in Narita SFO to KL Jan 6-7 2016
2016-01-06
Gremlins. It was all about gremlins today. At 4:05am, just before we were going to leave at 4:30am, Sue noticed that the house networking wasn't working right. Wah! I have a bunch of servers that live on our network and need to keep running. In a panic I rebooted all of the network switches. That got things back on the net. At least for a while. We left and started traveling.
Unfortunately the network fix was only temporary. In San Fran airport I checked in back home and saw the problem was back. I could get to the edge machines but nothing behind the first switch. I called up my buddy George who is looking over things for us while we are gone. George was heading over to give a first mail pickup for us anyway. I had him swap out one of the switches that I suspected of being the problem. That worked. Again at least for a while. But then later it was down again. George did some more debugging of the network and found that one of my systems wasn't behaving right. He isolated it from the rest and that seems to have my network in a happy state. Yay George for helping with the problem while I am gone.
But the travel problems were just beginning. Weather over San Francisco delayed arrivals there. Our flight was delayed about three hours. Of course that meant that we missed the connecting flight to Tokyo and the next leg beyond to Kuala Lumpur. Ugh. We could have gone back home and picked everything up again from the start but instead pushed on to San Francisco. A lot more flight options exist here. But in the end there was nothing to do but spend the night here and pick up the same flight on the next day. Emailed Raj and he will pick us up the same as before but one day later.
And of course since we were leaving the house at 4:30am and tight on time to get things done before we left we decided to stay up late rather than get up early. We left the house at 4:40am picked up by the shuttle service and snoozed on the first flight. That two hours of sleep was critical but still not enough to have a clear head to deal with the network problems back home and dealing with the airlines trying to get to Malaysia.
And then for another very small snag both Sue and I went off and left the paperback books we were going to bring with us at home. San Fran airport had a nice bookstore. We spent some time shopping and found another couple of real non-electronic books that we can read. Well, actually, we bought the exact same titles we had bought before. After we read them we can leave them somewhere for others to enjoy.
Sue took some pictues of the day's activities for us.
An AC splitter that we were going to bring but then bought in route.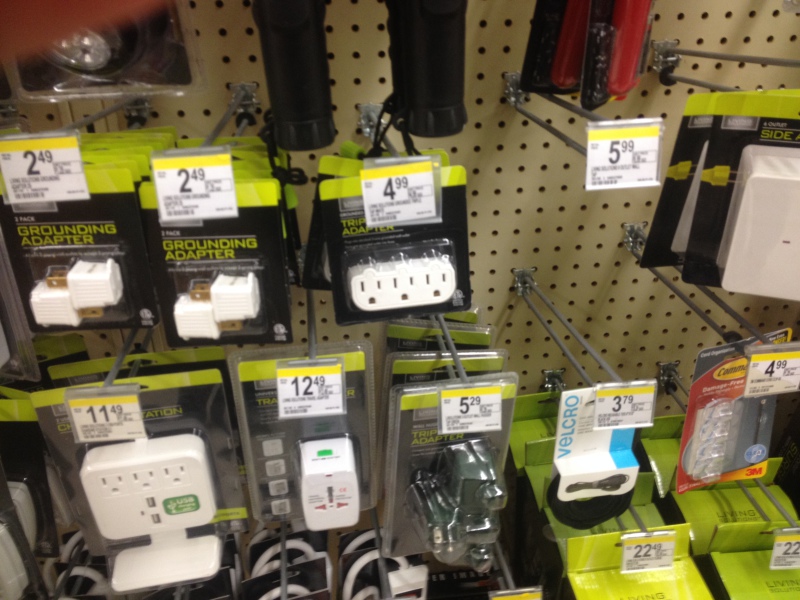 The shopping cart escalator was pretty cool.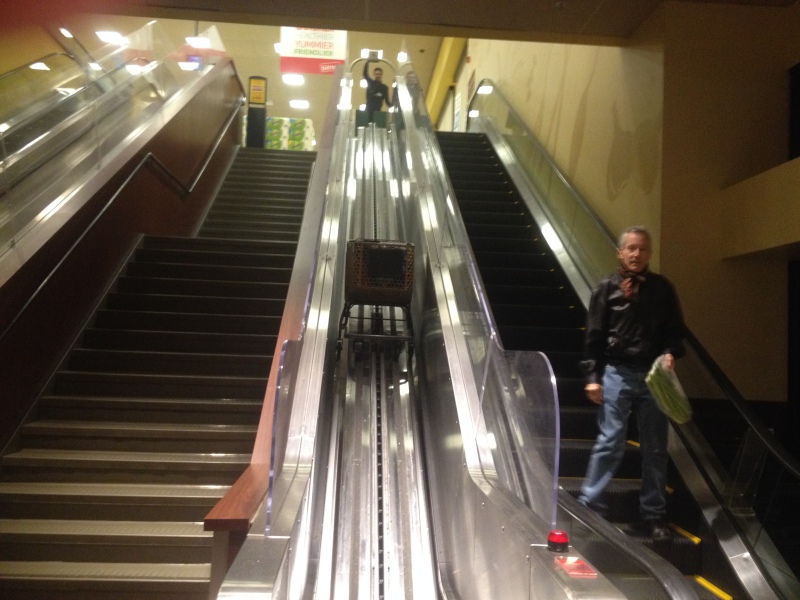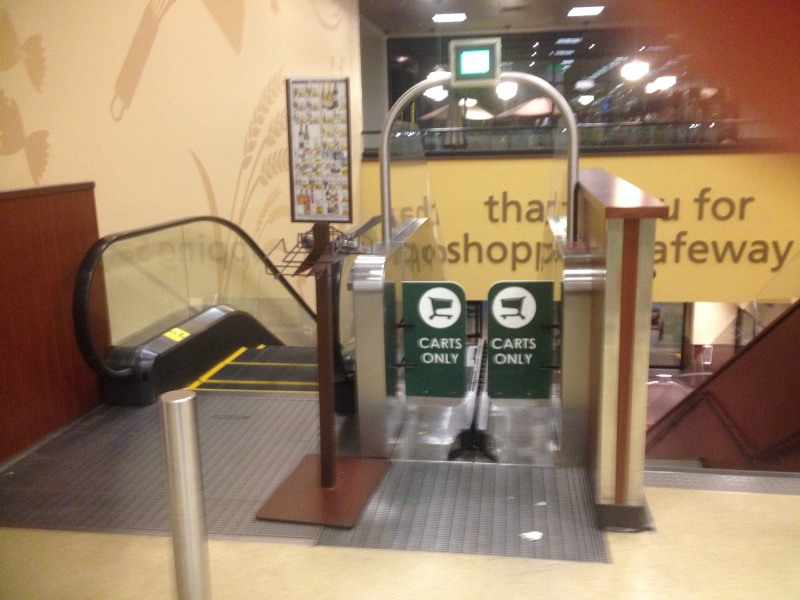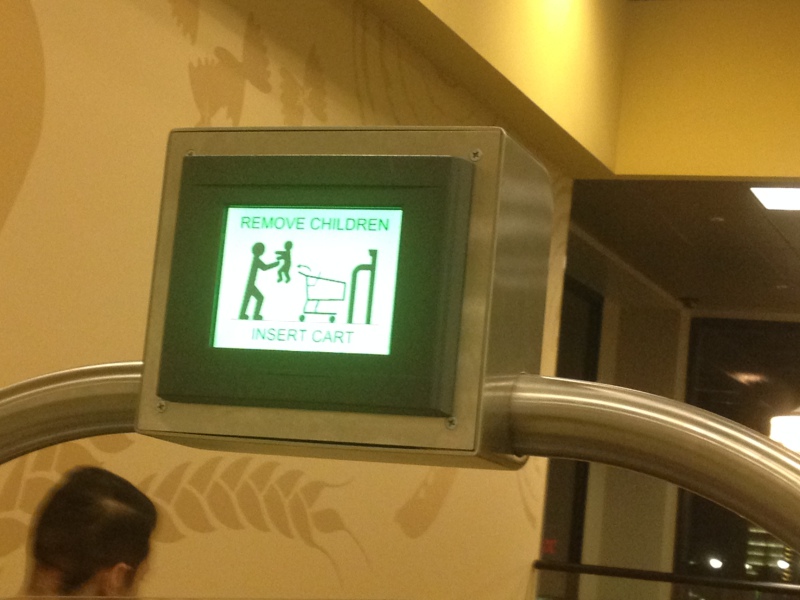 And we found some ice cream for Bob. (Remember that we haven't had more than a couple of hours of sleep since yesterday.