THOMPSON VALLEY COMPOSITE SQUADRON
CIVIL AIR PATROL
FORT COLLINS, CO
28 September 1998
For Immediate Release
CAP Captain Diane Rutter-Wassom named Colorado CAP Senior Member of the Year
Fort Collins resident Diane Rutter-Wassom has been honored as the 1997 Senior Member of the Year of the Colorado Wing of the Civil Air Patrol, in recognition of her outstanding contributions to CAP.
Capt. Rutter-Wasson is a registered nurse employed at McKee Medical Center. She is a private pilot, and is qualified as a CAP transport pilot, observer, scanner, and ground team member.
She is the Deputy Commander for Cadets in the Thompson Valley Composite Squadron in Ft. Collins, where she has given outstanding leadership and renewed vitality to the cadet program. Through her encouragement and support, several cadets have earned advanced awards.
Capt. Rutter-Wasson escorted four local cadets to the 1997 Aviation Survival Challenge emcampment in Huntsville, Alabama, at which she was awarded the Commanderís Commendation for her participation. She served as a medical officer at four cadet summer encampments, and organized and led three squadron bivouacs.
Capt. Rutter-Wasson is also active in CAP Emergency Services, and has participated in several search-and-rescue missions, including the widely publicized A-10 search.
In addition to her CAP contributions, Ms. Rutter-Wasson is an active participant in the GEMS (Gender Equity in Math and Science) program in the Loveland School District, where she gives pre-flight demonstrations to promote math and science careers. She also teaches a preliminary ground school for 6th graders in Fort Collins schools to promote aerospace education.
Ms. Rutter-Wasson resides in Fort Collins with her husband and two children.
--
Civil Air Patrol, the official Air Force Auxiliary, is a nonprofit organization. It performs more than 85 percent of inland search and rescue missions in the continental United States. Volunteers also take a leading role in aerospace education and serve as mentors to America's youths through CAP cadet programs.
<![if !supportEmptyParas]>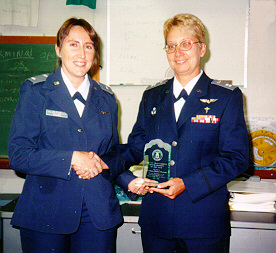 Commander Wolber (left) presents CTP Wassom with her award